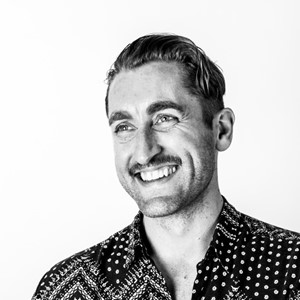 Tyler Ray Hawkins
Tyler Ray Hawkins is a multidisciplinary artist with a Masters of Design from NIDA. Tyler's practice spans set, costume, AV, film, theatre, event, fashion. He also has provided creative direction and design consultation for major brands and commercial clients such as Malthouse Theatre, Sydney Theatre Company, Museums Victoria, Opera Australia, Disney Theatrical Group, Heaps Gay, FBi Radio, and Louis Vuitton.
Previous credits include Festival Designer for Adelaide Fringe Festival, Bondi Feast Festival, Greater Sunrise, The Wonderful Wizard of Oz (Belvoir St Theatre), The Smallest Hour, A Strategic Plan (Griffin Theatre Company), Intersection: Arrival, Intersection Chrysalis, Moth (ATYP), Howling Girls (Sydney Chamber Opera), The Three Graces (Theatre Works/The Anchor), and Black Birds (Black Birds). Screen credits include Faboriginal, Scout, The Shore, A Chance Affair, Brown Lips (Noble Savage Pictures), Saint Lo (Megan Washington), Eaglehawk (Dollhouse Collective), and various independent stage and screen productions.
Tyler Ray Hawkins has worked with...