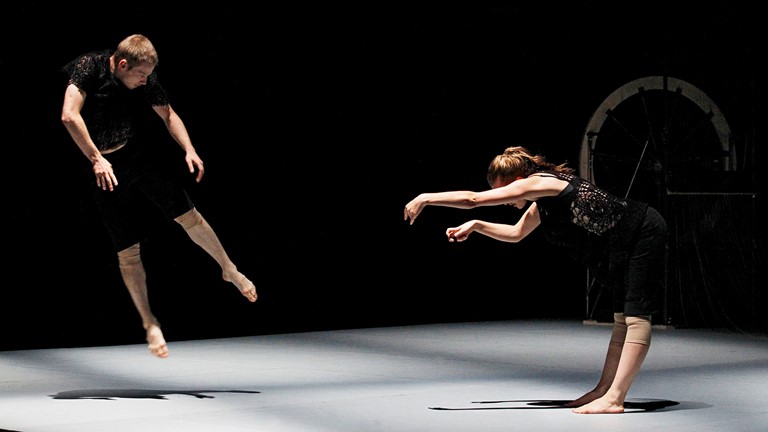 Production still for "Connected". L-R: Alisdair Macindoe, Stephanie Lake. Photographer: Jeff Busby
Connected
11 March 2011 – 20 March 2011 Merlyn Theatre
Malthouse Theatre, Chunky Move Dance Company,
Dance Co-Production
A collaboration between Chunky Move and Californian artist Reuben Margolin, combining dance, sculpture and digital technology. Beginning with simple movements and hundreds of tiny pieces, the dancers build their performance while they construct the vast sculpture in real time. During the performance, these basic elements and simple physical connections quickly evolve into complex structures and relationships.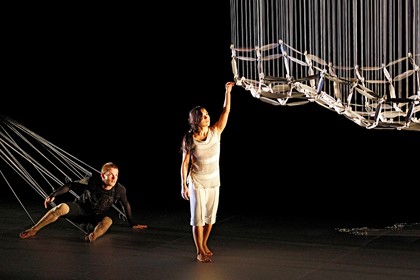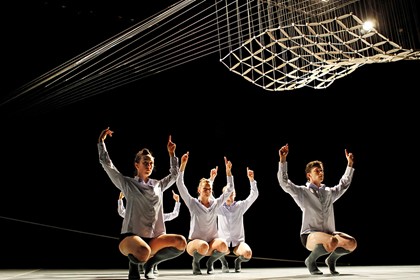 Production still for "Connected". L-R: Alisdair Macindoe, Marnie Palomares. Photographer: Jeff Busby
Production still for "Connected". L-R: Harriet Ritchie, Marnie Palomares (obscured), Stephanie Lake, Alisdair Macindoe, Joseph Simons. Photographer: Jeff Busby
Made possible by the New England Foundation for the Arts' National Dance Project, with lead funding fom the Doris Duke Charitable Foundation and additional funding from the Andrew W. Mellon Foundation and the Boeing Company Charitable Trust.