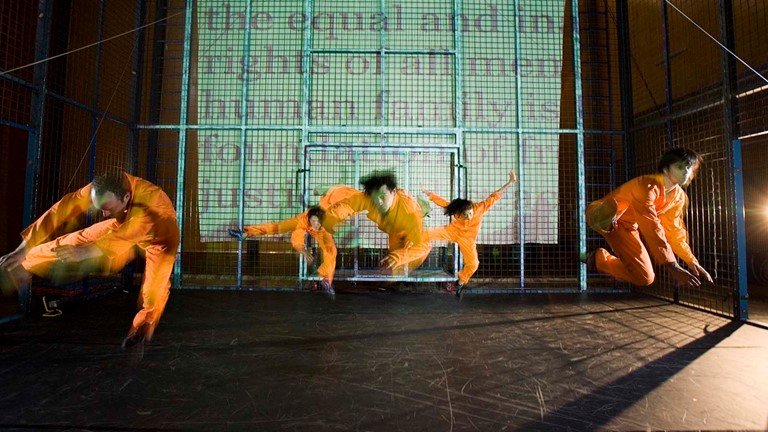 Production still for the Sydney production of "Honour Bound". Photographer: Heidrun Löhr
Honour Bound (2006 - Sydney)
28 July 2006 – 03 September 2006 Playhouse (Sydney Opera House)
Malthouse Theatre, Sydney Opera House,
Theatre Dance Film Co-Production
Since September 11 2001, Australia's engagement in the "war on terror" has raised important questions about the balance between the pursuit of our national security and our human rights.
"Honour Bound" is an intensely passionate and confronting new work that explores these issues through a combination of dance, film, theatre, and aerial performances. Set within an eight-metre square cage, the performance and projections take place on the walls, ceiling and floor.
It's a culturally and artistically ambitious work that focuses on the experiences of Terry Hicks and his son David.
"PROVOKES A VISCERAL RESPONSE ... IT IS BRILLIANT THEATRE."
— The Age
"IT IS EXEMPLARY POLITICAL THEATRE-MAKING OF A RARE INTELLIGENCE AND POWER; NEITHER DIDACTIC NOR EXPLOITATIVE, APPEALING NEITHER TO SENTIMENT NOR SPECIAL PLEADING, IT REVEALS ITS ARGUMENT WITH A DEVASTATING VISCERAL IMPACT WICH LEFT THE FIRST NIGHT AUDIENCE STUNNED INTO SILENCE."
— Theatre Notes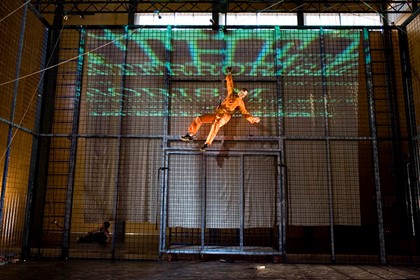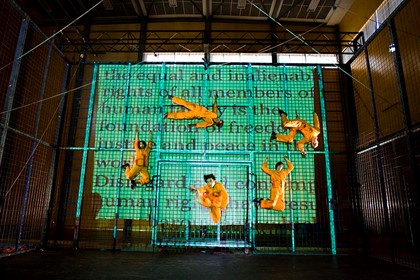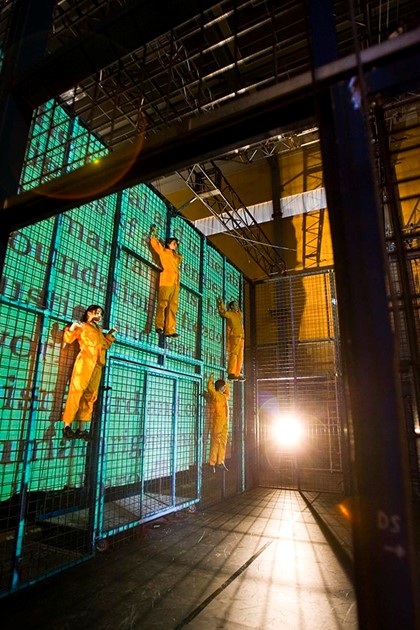 Production still for the Sydney production of "Honour Bound". Photographer: Heidrun Löhr
Production still for the Sydney production of "Honour Bound". Photographer: Heidrun Löhr
Production still for the Sydney production of "Honour Bound". Photographer: Heidrun Löhr