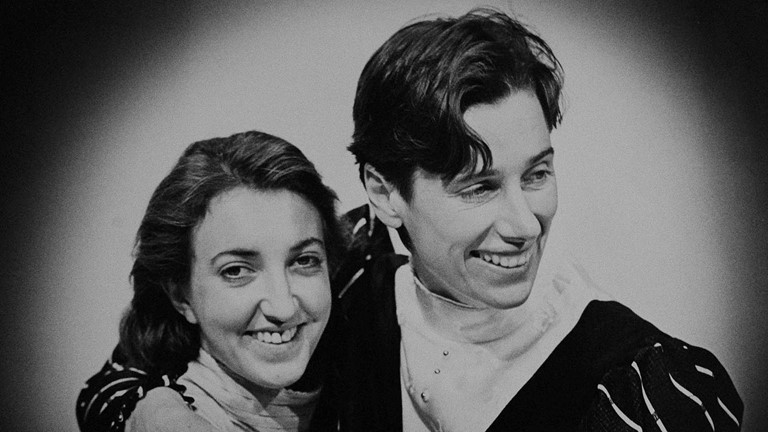 Production still for "In Male Attire". L-R: Julianne O'Brien, Susie Fraser. Photographer: Unknown
In Male Attire
28 June 1985 – 27 July 1985 St Martins Theatre
Playbox Theatre Company,
Theatre Devised
A group-devised work based on the life and writings of Marion "Bill" Edwards, an Australian who was assigned female at birth in 1880, but lived a large part of their life as a man.
From the press release:
"In 1985, Bill Edwards was caught in the bar of the Studley Arms Hotel, Collingwood, and was wrongfully accused of attempted burglary.
"His trial attracted much attention, especially from young women, who in their eagerness to catch a glimpse of him, crowded the entry to the court, sent him large bunches of flowers, bottles of scent, lollies and offers of money.
"This would not be remarkable if the central character 'Bill' had not, in fact, been a woman. Marion 'Bill' Edwards had, from the age of 19 'realised the many disadvantages a woman had compared to the opposite sex'. She adds, in her ghost written biography, 'A strange yearning, a yearning that I cannot account for, nor have I tried, came over me that I would like to earn my living as a man'.
"Her life was spent in the male strongholds of working-class Australia; with shearers, gamblers, racing types, sportsmen, wood choppers and pub-owners. She even spent a week or two as a sharp shooter in the Melbourne Cyclorama in Bourke St, until she accidentally shot the wife of a fellow performer. She married a woman 16 years older than herself, and confessed that even 'she did not know her true gender; and how she kept her secret will go with her to the grave'.
"First alerted to the existence of this fascinating character in the 1984 Australia Women's Diary, James McCaughey, with writer Julianne O'Brien and actors Susie Fraser, Drusilla Hendry and Jillian Murray have devised a performance giving full reign to the picturesque, unique and historical aspects of this remarkable woman."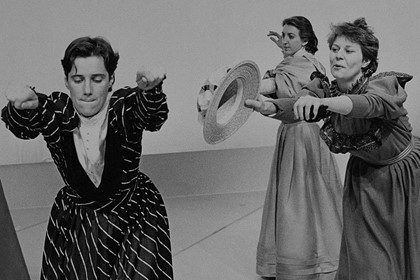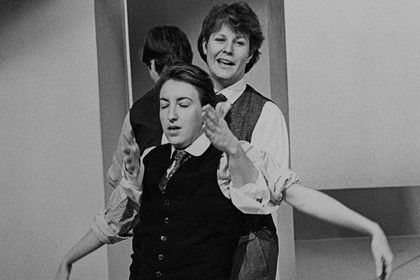 Production still for "In Male Attire". L-R: Susie Fraser, Julianne O'Brien and Drusilla Hendry. Photographer: Unknown
Production still for "In Male Attire". L to R: Julianne O'Brien, Drusilla Hendry. Photographer: Unknown