Though her time as Artistic Director was comparatively short, Marion Potts oversaw some major collaborations, and some of the most radical interventions into the company's community engagement and artist development policies. The impact she had in just under five years continues to be seen in Australian theatre with many of the artists and companies she championed rising to prominent positions and leadership roles in Australian theatre.
Her career prior to her appointment as Artistic Director at the Malthouse was impressively diverse and prolific, serving on boards and artistic directorships for Hothouse Theatre and World Interplay as well as regularly directing for Sydney Theatre Company (STC) and the State Theatre Company of South Australia (STCSA). A NIDA graduate and former Sydney University Dramatic Society (SUDS) member in the late 1980s, she was Artistic Director of the Festival of New Works at Griffin Theatre in 1995, Artistic Director of STC Pulse in 1997 and 1998, Festival Director for World Interplay in 2001, and Literary Manager at Griffin theatre in 2002. In 2002 and 2003 she served on the Theatre Board of the Australia Council, and became Associate Artistic Director at Bell Shakespeare. Her first work for The Malthouse was Venus and Adonis, a co-production with Bell Shakespeare, in 2008.
In the year before Pott's appointment, the under representation of women in Australian theatre had come back into the spotlight. The 2009 Belvoir program, which had become known anecdotally as the Belvoir Boys Club, featured only one female-led production. Arts journalist Jane Howard wrote about the issue for ABC Arts, describing how then Artistic Director Neil Armfield 'announced, for his swansong season as artistic director of the company he cofounded, a season of shows almost exclusively written and directed by men. It was a moment that prompted considerable scrutiny of industry wide gender disparity. In that year, at the eight best funded Australian theatre companies… just 24 per cent of plays were written by women and 24 percent were directed by women.  A staggering 86 percent of productions had at least one man as writer or director.' 
The lack of representation in the industry was hardly a newly identified problem. In 1994 director Donna Benjamin wrote 'Australia's women theatre directors are apparently invisible. Apart from a handful of articles talking about the merits of particular directors there are no published studies of the work of these women. Their achievements are not however invisible.' 
Before this, in 1974 Australian Performing Group actor Kerry Dwyer, with the other women of the company, established the Women's Theatre Group in 1974 which produced their own productions under the APG banner including Betty Can Jump, Out of the Frying Pan and She'll Be Right Mate. In 1981 Suzanne Spunner and Meredith Rogers formed the Home Cooking Theatre Company to 'create a place for the voice of women in Australian Theatre' and produced a range of shows including their most successful work, Running Up a Dress in 1987.  
The inspirational director Ewa Czajor was a catalyzing figure for the Women's Directors Group, and her tragic murder in 1988 left the Ewa Czajor Memorial Award as a legacy that supported women directors into the 2000s. Performance academic Peta Tait was a tireless critic of this problem publishing Women Behind the Scenes, a research report into women working in theatre outside of performance, in 1993.
In 2009, Melanie Beddie, Jane Woollard and Lucy Freeman responded to the gender imbalance in both the Belvoir and MTC seasons programming for that year, by founding the Australian Women Directors Alliance.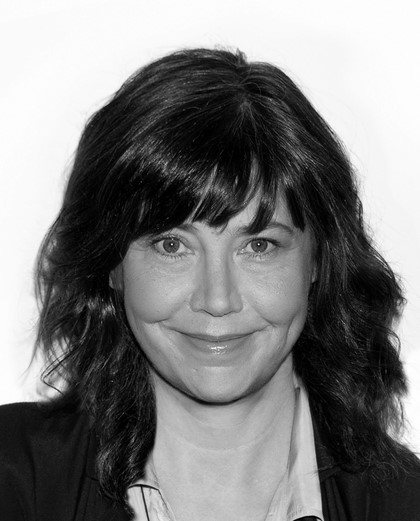 It was in this environment that Potts began as Artistic Director, along with Jo Porter as Executive Director/General Manager. Of Potts' appointment Alison Croggon wrote at the time, 'Potts brings to the Malthouse a keen theatrical intelligence and formal curiosity, qualities that are aligned to a substantial history of directing plays, from classics to new work. She is less well known in Melbourne than she is in Sydney, where she has been active on main stages for the past few years, and one of her immediate tasks will be to forge relationships with Melbourne's indie theatre scene… She will have to endure speculation that her appointment is, at least in part, a response to the controversy last year about the lack of women in key creative positions in Australian theatre. I shall point out here that no man with Potts' CV would face any such speculation. But let's face it, the fact that a woman has been appointed to one of the nexus positions in Australian theatre is worth a quiet cheer or three.' 
In her 2010 presentation of the then annual Rex Cramphorn Lecture, she laid out much of the philosophical ground that would guide her approach to programming and development. For Potts, one of the greatest features of theatre was:  
'The fact that as audience members, we're invited to imagine and interact with the most optimistic and most terrifying versions of our selves. Those, and the full spectrum of possibilities, behaviours and actions in between.  
Theatre allows us to imagine a different reality, and in so doing to know that it can be one of our own making – that we can be both its creator and a character within it.  We have in ourselves, the power to make choices about who we want to be, to shape the kind of world we want to live in.  
This constant dance between subjectivity and objectivity is where the difference between audiences and artists disappears—where the line smudges out into a much more diffuse and complex relationship. It's not the realm of 'certainty' or of dicta. Its where theatre becomes the place of our collective imagining—where it unites us in kind of an ongoing quest to feel out the edges of who we are… An attempt to identify what we value. It follows that I want as many people as possible to be part of this.' 
Addressing the contemporary and historical gender imbalance in Australian theatre, Potts also said in her Rex Cramphorn Lecture: 
'I want women to stop being burdened by the many voices that question their legitimacy and erode their faith in themselves.  Why are we being made to hold meetings and form alliances which place even more scrutiny on us?  It's essential that we do it, but I resent having to. But more importantly how can we get this to stop being an issue goes right back to the question of agency. How can women have an impact on the world around them if they are never allowed to imagine one on stage?  Or if all they see on stage is one that re-enforces the dominant paradigm and almost teaches them to value what they're not?' 
Potts's time as Artistic Director was an era of relative stability for the company that foregrounded works by previously neglected sections of the theatre community including women, people of colour and LGBTIQ+ artists. Potts' programming also placed a renewed focus on hosting work by emerging independent companies with the Helium seasons. Potts recalled of her tenure as Artistic Director that: 
'it struck me that Malthouse was an amazing vehicle to connect artists—not only independent artists, but artists that worked with Malthouse—to the broader socio-political conversation that was happening in the world. It also felt like a lost opportunity that we weren't connecting our diverse audiences with a very diverse and outward looking offer. The two projects I'm most proud of in that respect remain Blood Wedding and the Good Person of Szechwan. You know, English is the third most spoken language in the world, after Chinese and Spanish. I felt there was a need to interrogate this Anglo-centricity and the mythology we create around our own place in the world.' 
In 2011 Potts continued the company's relationship with cabaret artist Meow Meow, directing Little Match Girl, which toured to Queen Elizabeth Hall in London's West End to much acclaim. Her 2011 season also included major works by works such as Lally Katz's A Golem Story, directed by Michael Kantor; Tom Holloway's Die Winterreise directed by Matthew Lutton; Pin Drop by Tamara Saulwick; Look Right through Me, produced by Kage Physical Theatre in collaboration with cartoonist Michael Leunig; Namatjira, produced by Big hART Inc., written by Scott Rankin which won the Victorian Drama Award for Outstanding Production, and Back to Back Theatre's groundbreaking production of Ganesh Versus the Third Reich, presented as part of Melbourne International Arts Festival. Beat Magazine described Pott's first year of work for the company, divided into two seasons across the year, saying 'if Season One was all about 'the shock value', then Season Two at Melbourne's Malthouse Theatre is characterised by 'epic journeys about the human experience' with equal measures of surprise, experimentation and artistic excellence.'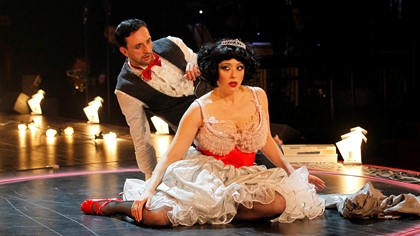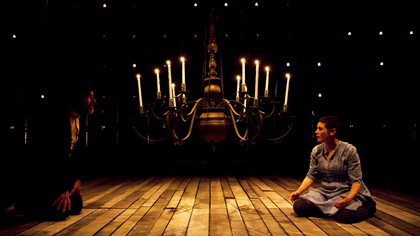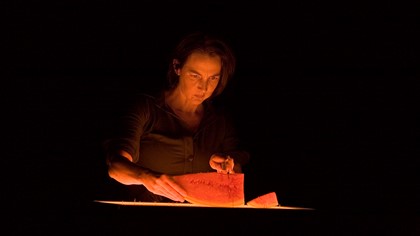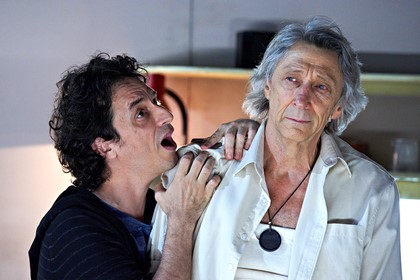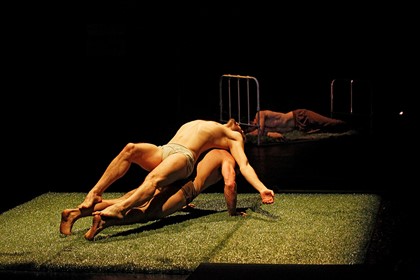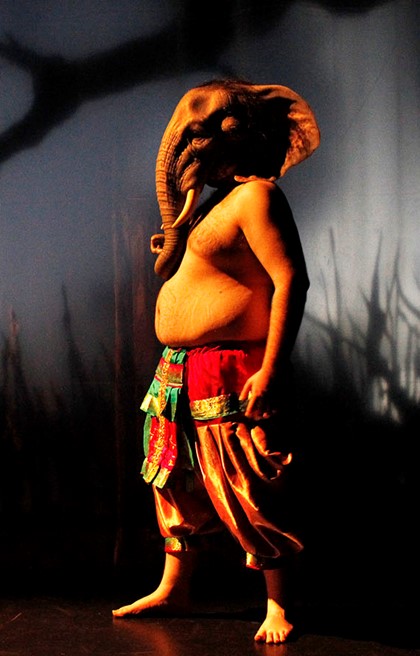 Look Right Through Me (2011)
Ganesh versus the Third Reich (2011)
Pott's commitment to theatre companies having an important role in the community as good corporate citizens included extending the scope of Project Greenlight, which had been developed to focus on addressing the environmental impact of The Malthouse's operations. Her contribution to Project Greenlight included direct interventions such as moving from simple carbon pricing offsets to direct interventions in company practices such as replacing the foyer and theatre lighting with sustainable LED lights, the use of rechargeable batteries, more effective recycling of materials, a paper budget, the retrofitting of waterless urinals, and chemical and cleaning products switched to environmentally friendly alternatives. 
In her first year Potts also initiated the Female Directors in Residence program. Supported by donor Craig Reeves, this annual program was first offered to then-emerging director Anne Louise Sarks, followed during Potts's leadership by Adena Jacobs, Ros Oades, Clare Watson and Samara Hersch. Now running for almost a decade, the program has supported the professional development of many of the country's most important directors, with Claire Watson becoming Artistic Director of WA's Black Swan Theatre Company in 2016, and Anne Louise Sarks taking over as Artistic Director of Melbourne Theatre Company in 2022—the first female artistic director in its nearly 80 year history. 
In 2011 she also introduced a new core team of associated artists, Van Badham for Writing, Paul Jackson for Design and Matt Lutton for Direction. These artists would not only be instrumental in developing the new works for each season as part of The Engine Room, but would also take on increasing responsibility for mentoring with emerging artists as part of the Besen Family Artists Program. Potts described them as 'people to think with, people who ask questions as part of their practice and who are aesthetically and creatively aligned to these goals.'   
The Company In Residence program continued, supporting Ride-On Theatre, independent opera company Four Larks, puppet and visual theatre company Men of Steel, and the postdramatic queer feminist theatre company The Rabble. As Potts said in her Rex Cramphorn Lecture: 
'What I do believe in is the idea that theatre companies (rather than production houses) sit at the heart of this investigation. They can bring many artists into that environment and with strong leadership, with a core artistic team that is open and optimistic, they can keep articulating the discoveries that are the next questions…. It's a model that allows for greater access, greater diversity, a greater sense of the 'other.' 
In 2012 the company also formed an Aboriginal and Torres Strait Islander Advisory Committee to advise the leadership on matters of representation, engagement and cultural protocols. 
The 2012 program included the critically acclaimed production of Simon Stone's adaptation of Henrik Ibsen's The Wild Duck, and Thomas Bernhard's The Histrionic directed by Daniel Schlusser—the final performance by renowned Australian actor, Bille Brown before his death. Marcel Dorney's The Plague Dances was produced by Four Larks in the Tower; Angela's Kitchen, a solo performance by Paul Capsis; a new opera by Deborah Cheetham produced by Short Black Opera as part of Opera XS; and one of Potts's signature works Blood Wedding, a new adaption of Lorca's play by Raimondo Cortese and directed by Potts which included a special post show event Fiesta de la Tarde, a foyer celebration with sangria, paella, readings of Lorca's poetry and foyer music.  
Read more about Potts' bilingual production of Blood Wedding here. 
The Helium seasons began in 2012, foregrounding emerging and independent theatre makers making works in The Tower which opened with Bild-Lili by Lull Studios, followed by Personal Political Physical Challenge by Hydra Poesis, Pale Blue Dot by OpticNerve Performance Group, Opal Vapour with Dancehouse as part of Melbourne Fringe Festival and Orlando by The Rabble as part of Melbourne Festival. In Potts' words, 'we need to be more than production houses… We need to re-emphasise process. We can't live or die by one play or even one season. Audiences won't find representation in every six moth season or even across the year. We have to ask for both rigour and trust – not only in relation to each show but to the bigger cultural 'project' that we are all taking on…. We need long term investment from our audiences, from our boards and from each other.' 
Alison Croggon described Malthouse's 2013 season as 'Marion Potts's strongest, and certainly most diverse, season so far.' It included a new production of Stephen Sewell's landmark play Hate; an adaptation of the Ingmar Bergman film, Persona, directed by Adena Jacobs; White Rabbit Red Rabbit by Nassim Soleimanpour; The Bloody Chamber, adapted by Van Badham, and The Shadow King, a landmark work based on Shakespeare's King Lear by Tom E. Lewis and Michael Kantor. The Shadow King won the Green Room award for best writing and adaptation, and toured to Sydney Festival in 2014. In October of 2013 Jo Porter stepped down as General Manager and was replaced by Sarah Neal. 
The Launch for Potts's 2014 season featured an interactive/participatory element, presaging the company's future experiment with Immersive Theatre in 2021, and was described by Coral Drouyn in Stage Whispers as starting 'with a treasure hunt, in keeping with Malthouse Theatre's reputation for cutting edge innovation. Handed a card with a map upon entering for 2014 Season Launch, we were encouraged to follow a route which revealed to us blood-stained clothes, Chinese lanterns, a car, and other clues to the productions being offered next year. It was a novel and amusing way to break the ice for an eclectic crowd made up of students, elderly subscribers, actors and the press.' This year also saw the company sign a new naming rights partnership deal with Coopers Brewery, rebranding the venue as The Coopers Malthouse. 
The 2014 season included The Rabble's adaptation of Mary Shelley's Frankenstein; Night on Bald Mountain by Patrick White, directed by Mathew Lutton; Ugly Mugs by Peta Brady, directed by Potts, Walking into the Bigness by Richard Frankland, and Calpurnia Descending by Sisters Grimm. One of the most influential directors of China's avant-garde stage Meng Jinghui was invited to direct The Good Person of Szechuan by Bertolt Brecht, with the production touring to the National Theatre of China, Beijing and the Shanghai Yihai Art Theatre, Shanghai. Potts described the season as emblematic of the company's overall approach in her launch speech, saying 'We at Malthouse Theatre seek to create an opening, a space within the abstract world of ideas, emotions and inspiration that invites our audience in. This kind of theatrical 'aperture' reveals the space that actors play in, and where we join them for an hour or two of imagination and invigoration.' 
This year Potts traveled to India to collaborate with Jagriti Theatre in Bangalore, and attended the new writing festival Dramafest in Mexico with Lally Katz. While there, Katz performed her solo work, Stories I Want to Tell you in Person at the Teatro La Gruta del Centro Cultural Helenico in Mexico City. 
In December 2014, Pott's was offered the position of Chair of the Australia Council Theatre Board, which she accepted. With her unexpected departure, Resident Director Matthew Lutton was appointed as interim Artistic Director, while a recruitment process could be undertaken. On leaving the company, Potts said 'Malthouse Theatre will always be part of who I am, and the values, skills and thinking that I take to my new position have grown under the roof of this great building … I am indebted to all the artists, colleagues and audience members who make the greater 'Project Malthouse' so worthwhile—not to mention fun.' 
Potts officially left the Malthouse in January of 2015, and then went on to become Executive Producer for Performing Lines. In 2017 she directed Di and Viv and Rose for MTC and Good Cook. Friendly. Clean for Griffin's 2018 season.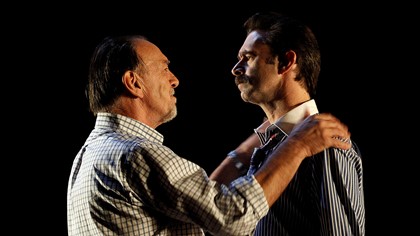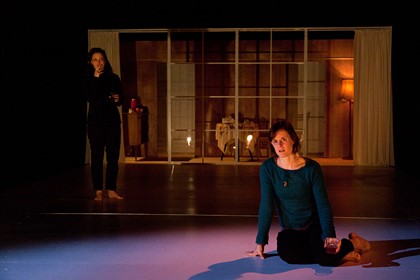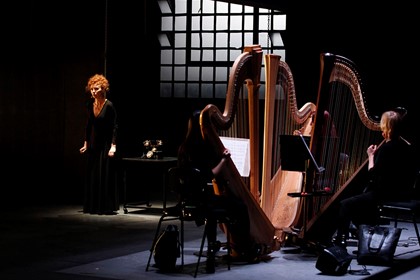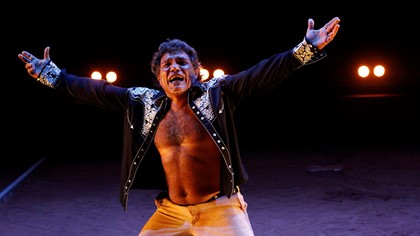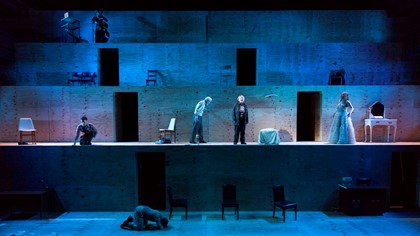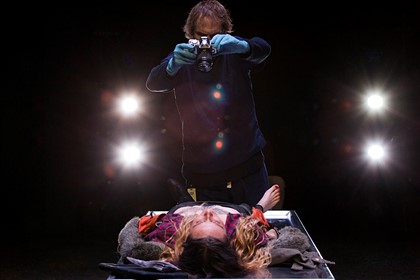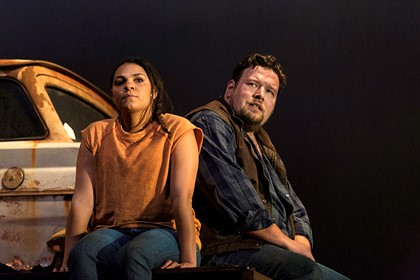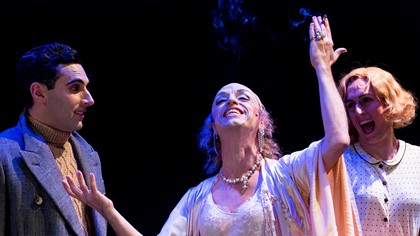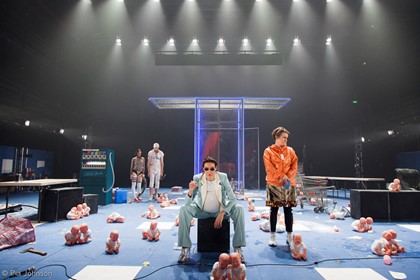 The Bloody Chamber (2013)
Night on Bald Mountain (2014)
Walking into the Bigness (2014)
Calpurnia Descending (2014)
The Good Person of Szechuan (2014)
Dr . Robert Reid is an independent playwright, theatre historian, immersive performance designer and critic. They were the artistic director of independent theatre company Theatre in Decay and immersive performance and game company, Pop Up Playground.  Dr . Rob's plays have been performed by the MTC and Black Swan, and their immersive works have been presented by the MSO, SLV, City of Melbourne, Bell Shakespeare and the Melbourne Football Club. Dr. Rob has a PhD in Australian Theatre History, was a co-founder and co-editor of WitnessPerformance.com and now runs the YouTube channel, Television is Furniture presenting reviews, history and analysis of contemporary Australian theatre.  
Marion Pott's Rex Cramphorn Lecture