In staging a new version Lorca's Blood Wedding in 2012, Marion Potts drew on her own experiences growing up in multi-lingual contexts around the world, and her desire to see Australian theatre better reflect our cultural diversity. In this essay, Rob Reid considers Blood Wedding's place in a long history of local artists struggling to shift the Anglo-centricity of our national imagination. 
Marion Potts's has long had a deep connection to the work of Spanish poet and playwright, Federico Garcia Lorca, having seen a production of his play The House of Bernarda Alba in Buenos Aires as a young girl. Potts remembers 'my parents took me to see it when I was living in Argentina. I saw it in this grand old theatre in Buenos Aries, and it terrified the bajeezus out of me. I just found it one of the most terrifying kind of pieces. In hindsight it was a creaky old production, a very sort of conservative production… But jeez, it was scary…'  It's no surprise then that one of Potts' signature works for Malthouse was her production of Lorca's Blood Wedding. 'The two projects I'm most proud of in that respect,' recalls Potts, 'remain Blood Wedding and The Good Person of Szechuan. You know, English is the third most spoken language in the world, after Chinese and Spanish. I felt there was a need to interrogate this Anglo-centricity, and the mythology we create around our own place in the world.'
Probably the most recognisable migrant drama in the early Australian canon is The Touch of Silk by Betty Roland in 1928, which introduces us to Jeanne, the French immigrant to rural Australia who faces prejudice and racism from the residents of the small town she lives in with the husband she met and fell in love with during the war. Here, we see the familiar structures of later migrant drama including isolation, exclusion, and the clash between newly arrived cultures with the already established local customs that ultimately lead to tragedy.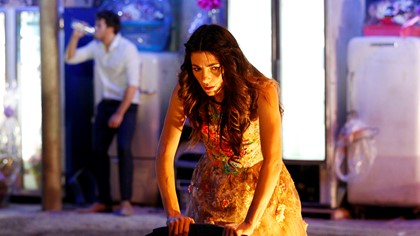 One of Potts' signature works for Malthouse was her production of Federico Garcia Lorca's Blood Wedding
The real explosion of migrant drama in Australia however was in the 1980s, which also introduced bi-lingual and multilingual elements to its texts. Jose Farinas's La Troupe company, founded in 1981 in Sydney, who are remembered for their production of Soundjata: An African Story at The Performance Space in 1989. Filiki Players, an independent company that began in 1984, presented Hotel Bonegilla and The Journey both by Tess Lyssiotis in semi-documentary form, developed from the oral histories of migrant women. Lyssiotis was one of the Australian writers championed by Playbox during the 1980s and 1990s. Geoffrey Milne described the work of Filiki Players as ranging from:
'stark realism to broad comedy, especially in portraying the problems encountered in trying to master English, but there were also many somber moments as the characters gradually realised that coming to Australia rarely resulted in the opportunities promised in the government's promotional post.'ᶦ
The 1980s also introduced the work of Latvian Australian playwright Janis Balodis, who's most well-known work, Too Young For Ghosts in 1985 contrasted stories of post-war immigration by the displaced communities of a war-torn Europe, with that of the German explorer and naturalist, Ludwig Leichhardt and his exploration of northern and central Australia in the 1840s.  
The Antipodes Festival in Melbourne was also an important component in introducing the typically Anglophone stage to bi-lingual drama. The festival was inaugurated on 25 March 1987, coinciding with the Greek National Day, and celebrated the Greek community in Australia and, with La Mama and Playbox, produced the first plays of Lyssiotis's Home Trilogy, A White Sports Coat and The Forty Lounge Cafe, which featured sections of text in Greek as well as English. The Forty Lounge Cafe would also be re-presented in 1990 as part of Playbox's inaugural season at the newly opened Malthouse Theatre complex.  
The Antipodes Festival also brought out the National Theatre of Greece's production of Medea in 1998. The final play of the trilogy, Blood Moon, was presented at La Mama in 1998. The 1990s also saw a further broadening of the cultural experienced being represented in bi-lingual drama through the The Olive Tree by Antonietta Morgillo with Adelaide's Doppio Teatro in 1990, the work of Taqa Theatre under the direction of Mishline Yasmine Jammal, reflecting the lives of the Arabic communities in Sydney in 1992 and IRAA (the Institute for Research into the Art of the Actor), originally formed by Renato Cuoculo in Rome in 1978, which began working in Australia in 1985 and produced over twenty plays during the following two decades. 
Despite this corpus of bi-lingual and multicultural work, much of Australian society has long struggled to accept the reality of the diversity of its population. Veronica Kelly writes: 
'[The term] 'Multicultural,' since the mid-1970s the bureaucratic favourite, ambiguously advances the debate, being another attempt at a marker distinguishing certain groups of Australians from others. Many observers would probably not consider an Anglophone white British or New Zealand migrant as 'multicultural,' thus revealing the ethnocentric biases of the term. Does the argument attempt to distinguish, in an essentialist sense, who is 'a multicultural' (that is, not an 'Anglo-Celt') by language, ethnicity, or by culture? 'Multiculturalism' cannot decide, nor does it consider those other determining factors like class, gender, region, or religion which enter into the discursive construction of all citizens.'ᶦᶦ
This struggle continues to the present day, commonly exacerbated by international events and the racist rhetoric employed by politicians demonizing specific communities in an effort to capitalise on the long-held prejudices and xenophobia of their Anglocentric constituencies.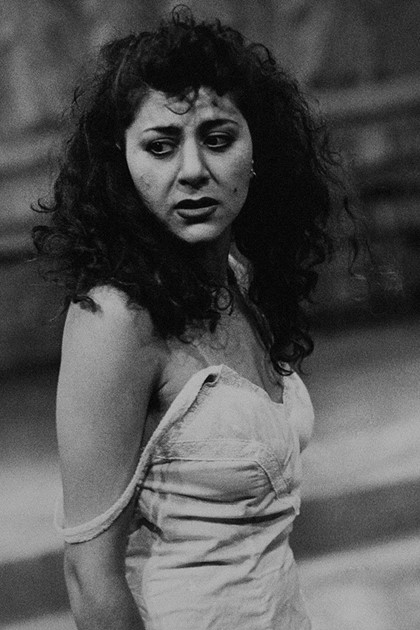 Forty Lounge Cafe – La Mama and Playbox, produced the first plays of Lyssiotis's Home Trilogy, A White Sports Coat and The Forty Lounge Cafe, which featured sections of text in Greek as well as English.
The Malthouse, as it is and in its former incarnation as Playbox, has regularly engaged in this debate with its programming, attempting to widen the access of migrant communities to Australian theatre. Marion Pott's bi-lingual production of Federico Garcia Lorca's Blood Wedding sits as an example of this, presented in 2012 during Potts' second year as Artistic Director. Inspired by a newspaper clipping from a Madrid Newspaper which told the story of a bride to be who abandoned her groom for another lover which ends in violence, Lorca adapted the report to tell a story of the generational cycle of violence. In a new translation by Raimondo Cortese of the original 1932 text, Blood Wedding told the story of two Spanish families torn apart by generational trauma and in the moment passion, with a blend of emotional realism and metaphysical symbolism.  
A critical element of Pott's production of Blood Wedding, was its multilingual aspect. The characters would flow from English to Spanish and back again, allowing the rhythm of the writing and the actors physical expressiveness to communicate the emotional sense of the scene no matter what language it was in. 'I'm really lucky,' Potts says, 'I speak Spanish. I think I would have struggled to do that project had that not been the case, and had I not lived in a Latin American culture.'
Potts recalls her years travelling internationally with her family as a young child. 'When I was little, my father joined the immigration department. He was a GP, and he joined the immigration department as part of the medical team, and his job was basically to see that no diseases were getting into Australia through immigration. We were sent to Turkey when I was about six or seven years old, and there was no English school in Turkey at the time, so they had very little choice but to send me to the French schools. Then the war broke out over Cyprus, and the Australian government took the Greek side, so we were transferred to Greece. He was doing a lot of work in Cyprus, Lebanon, then Argentina. When we got to Argentina the only French school there was a French Argentine school so they chucked me in there, doing Spanish in the afternoons and French in the mornings, so that's how I learned those languages. It's just an incredible privilege actually.' 
Of Blood Wedding she said: 'it often gets translated and performed in English, but translation is always an imperfect art and I wanted to be able to expose audiences to the musicality of the original.'ᶦᶦᶦ
For this production she engaged Australian rock musician and former front man of the band You Am I, Tim Rogers, as composer. Potts said: 
'We were very cautious not play too heavily into the restaurant flamenco sound. We didn't want it to be, you know, tourist brochure Spain at all and so while there is guitar music, it's kind of edgier and slightly more discordant.'ᶦᵛ
The production also featured a diverse cast of bi-lingual local and international performers, including Mariola Fuentes, in the key role of The Mother. Fuentes, a Spanish actor whos credits include the 1997 film Pedrona Bonita, Pero Lucas me Quería a Mí, the 1998 TV series A Las Once en Casa and the Pedro Almodovar directed film Talk to Her, was approached by Potts to play the role during a two day visit to Spain while en route to the Edinburgh Festival. Italian born actor Silvia Colloca, who played The Bride, auditioned via tape for the role while visiting her family in Italy. She said of the language in production: 'What I have found the most challenging is to rely on the language to convey the emotions. It is very easy to fall into the temptation to be lyrical when delivering poetry, and I have had to go through the process of stripping everything to the essential core. When the words are so powerful, what is left to do for us actors it to say them simply as they are, listen and trust one another.'*ᵛ 
She also said of Potts's staging 'Don't expect flamenco, blood and castanets! Marion's direction takes the play into a more modern, post-colonial world with a strong Spanish influence.'ᵛᶦ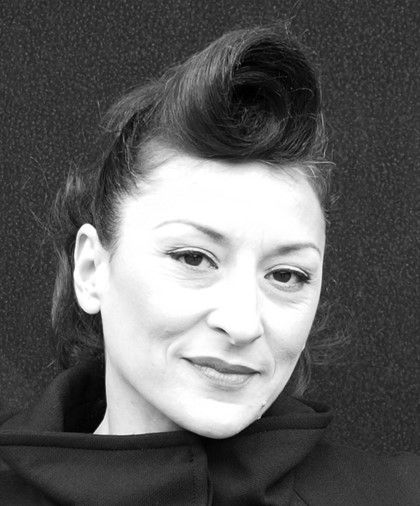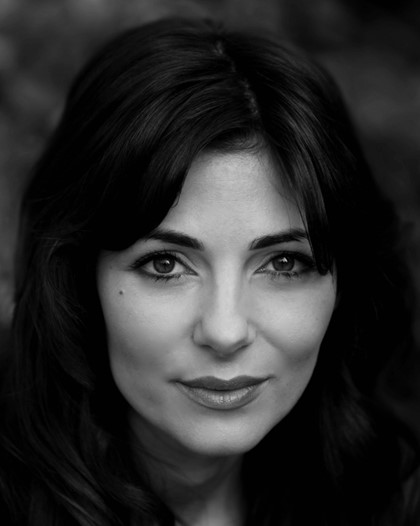 Mariola Fuentes, in the key role of The Mother
Italian born actor Silvia Colloca, who played The Bride
Pott's memories of her youth spent between diplomatic postings in dangerous places are surely close to the surface in her interpretation of the post-colonial legacies visible in Lorca's writing. Pott's remembers 'In Argentina you would wake up at night hearing another bomb going off and kind of like rolled over and went back to sleep again. In Turkey I remember we had to put blue paper all over the windows, and the car headlights, because the whole city was blacked out just like in World War Two. When we were in Argentina, Evita the musical was banned. My father smuggled it home from a trip, and we had to shut the windows to listen to it.'
Pott's describes the value of having a multicultural cast and bi-lingual approach for this production, saying:
'I knew that we wouldn't be able to assemble a cast like this without Melbourne being the kind of city it is…we have two Chileans, two Colombians – we've got three Spaniards, we've got a Portuguese actor, we've got an Italian. So it is really a diverse cast.'ᵛᶦᶦ 
She also noted that: 
'it's about capturing that sort of mongrel mode of expression that exists in many post-colonial communitie. It is an imagined world, but one in which a number of cultures coexist; an eclectic look. When we were designing it, we kept being drawn back into the cliched versions of Spain; we kept finding we would talk about strands of garlic and crucifixes on the world… But we kept resisting it to find what its contemporary flavour is.'ᵛᶦᶦᶦ
The design for the production was produced by the Melbourne based artists The Sisters Hayes—Christina, Esther and Hannah—who drew on their American and Filipino heritage in the set and costume designs. Of their work for Blood Wedding, they said:
'The first thing (Potts) said is that she didn't want to set it in a specifically Spanish-only place, she wanted it to read more universally.'ᶦˣ
Their designs incorporated touches of the Philippines and its colonial Spanish past with more generic suburban elements.  A wide, desert like expanse of gravel covers the floor and a bank of refrigerators stacked with ice and water line the back wall. 
Reviews of the production were largely enthusiastic. Cameron Woodhead wrote in the Sydney Morning Herald that: 'Fuentes embodies the shocked quartz of love and bitterness fused; a furious, unyielding love, the kind that admits the inevitability of its loss in every doomed step towards the realisation of it. Her delivery of the final, stricken speech takes one of the most piercing instances of maternal grief in all drama, and rips the beating heart out of it. It's breathtaking acting.'ˣ
Anne-Marie Peard wrote that, 'Potts's direction seems to always start with character and by letting her cast find their unique connection to the character, the uneven passions always belong to characters…. I think Lorca would be astonished and proud and excited to see this production (and he'd love Melbourne).'ˣᶦ 
Sarah Mckenzie said 'This bilingual production, performed without subtitles, is a brilliant display of how much a story can be conveyed with an actor's voice and movement, regardless of if the audience understands all the text.'ˣᶦᶦ 
and Alison Croggon wrote: 'Marion Potts's bilingual production of Blood Wedding is probably as close as we can get to experiencing Lorca without being able to speak Spanish.'ˣᶦᶦᶦ
The production was also accompanied by a special post show event, Fiesta de la Tarde, a foyer celebration with sangria, paella, readings of Lorca's poetry and foyer music. In the Malthouse Annual report for 2012 Potts noted that 'Blood Wedding brought the second most spoken language in the world to our stage and allowed many culturally diverse audience members to project themselves and their own backgrounds into the work. It was deeply rewarding to see different audiences in our building – to have our foyer bubbling with three or more languages spoken, sangria consumed, and poetry read.'ˣᶦᵛ 
Ruth Sancho Huerga was nominated as a Best Actress for the Green Room Awards for her performance as The Servant.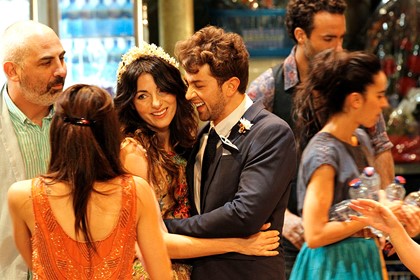 The production was also accompanied by a special post show event, Fiesta de la Tarde, a foyer celebration with sangria, paella, readings of Lorca's poetry and foyer music.
Dr . Robert Reid is an independent playwright, theatre historian, immersive performance designer and critic. They were the artistic director of independent theatre company Theatre in Decay and immersive performance and game company, Pop Up Playground.  Dr . Rob's plays have been performed by the MTC and Black Swan, and their immersive works have been presented by the MSO, SLV, City of Melbourne, Bell Shakespeare and the Melbourne Football Club. Dr. Rob has a PhD in Australian Theatre History, was a co-founder and co-editor of WitnessPerformance.com and now runs the YouTube channel, Television is Furniture presenting reviews, history and analysis of contemporary Australian theatre.  
ᶦ Milne, Geoffrey.  Theatre Australia (un)limited : Australian theatre since the 1950s, Amsterdam, New York, N.Y., Rodopi, 2004. 
ᶦᶦ Kelly, Veronica.  "Falling Between Stools: The Theatre of Janis Balodis", Ariel, Vol. 23 No. 1, January 1992.
ᶦᶦᶦ Clune, Megan.  "Blood Wedding Opens at Malthouse", Broadsheet.com.au, 20 July 2012. URL: https://www.broadsheet.com.au/melbourne/art-and-design/article/blood-wedding-opens-malthouse 
ᶦᵛ Ibid 
ᵛ No Author, "Silvia Colloca in Blood Wedding Malthouse Style", Theatrepeople.com.au, Jul 20, 2012.
URL: https://www.theatrepeople.com.au/silvia-colloca-in-blood-wedding-malthouse-style/ 
ᵛᶦ Ibid 
ᵛᶦᶦ Clune, Megan, Op. Cit. 
ᵛᶦᶦᶦ Stephens, Andrew. "Passion in anybody's language", Sydney Morning Herald, entertainment, July 7, 2012. 
ᶦˣ Braybrooke, Sarah.  "A Bloody Ordeal", TheMusic.com.au, 8 August 2012.
URL: https://themusic.com.au/features/blood-wedding-the-sisters-hayes-sarah-braybrooke/vHCvrtHQ09I/08-08-12/ 
ˣ Woodhead, Cameron.  "Blood Wedding". Sydney Morning Herald, July 28, 2012. 
ˣᶦ Peard, Anne-Marie. "Lorca would love this Wedding", AussieTheatre.com.au. 29 July, 2012. URL: https://aussietheatre.com.au/reviews/blood-wedding-lorca-would-love-this-wedding 
ˣᶦᶦ Mckenzie, Sarah. "Blood Wedding: Malthouse Theatre", Theatreforthought, 7 August 2012. 
ˣᶦᶦᶦ Croggon, Alison. "Review: Blood Wedding, Triangle". Theatrenotes. August 01, 2012.  URL: http://theatrenotes.blogspot.com/2012/08/review-blood-wedding-triangle.html 
ˣᶦᵛ Potts, Marion. "Executive Report," Malthouse Annual Report, 2012.