The history of First Nations storytelling in Naarm/Melbourne extends back some 60,000 years before colonisation. In this essay, Noongar actor and academic Carissa Lee considers the work of Malthouse Theatre in supporting First Nations artists today, and the overlooked histories and ground-breaking work that make it possible. 
The New Wave of late 1960s and early 1970s is widely recognised as a definitive era in Australian Theatre, in which many white male artists and companies were seen to be pushing back against their colonial masters and establishing a uniquely Australian voice. The truth, however, is a lot more complicated, and reveals the ways this myth obscures the work of the many First Nations artists who were, at the same time, staking their claim in our theatre landscape.ᶦ Off the back of the growing social and political activism of the 1960s, First Nations artists looked to the performing arts as a space in which to challenge negative stereotypes, and put Aboriginal lives and languages on stage.  
First Nations theatre has had a prominent presence in Victoria since the establishment of Nindethana in the early 1970s. Founded by actor, playwright and activist Bob Maza, and actor and musician Jack Charles, it drew its name from a Victorian Koori word that Indigenous playwright Gerry Bostock defines as 'a place for corroboree' or communal gathering.ᶦᶦ Nindethana staged productions of Jack Charles Up and Fighting, of Kevin Gilbert's Cherry Pickers, Katherine Susannah Prichard's Brumby Innes, and Harry Williams' Mission-Urban Identity – landmark plays that pushed representation of Aboriginal lives into the white Australian consciousness. After watching a staged reading of The Cherry Pickers, Katharine Brisbane described herself as being 'overawed with a sense of privilege at being allowed into the domestic life of a people whose privacy had, for so long and for such good reason, been guarded from white eyes'.ᶦᶦᶦ 
Nindethana also worked in partnership with Australian Performing Group, facilitating spaces for Indigenous stories to be told on stages and the beginning of a new wave of theatre that challenged the concept of Australian theatre, in an industry that was essentially still searching for its identity. Mission-Urban Identity was the last project for the company as the group dispersed, including Bob Maza going on to form the National Black Theatre in Redfern. 
In the early days of Hoopla! and Playbox Theatre Company we saw very little engagement with First Nations artists. Actors such as Ernie Dingo, Lynette Narkle and Kylie Belling can be found in the Malthouse archives performing in productions by white playwrights in the late 1980s, but at this time the company had never seen a project led by First Nations creatives.  
It wasn't until the 1990s that we saw this begin to shift, through a growing relationship with the newly founded Ilbijerri Theatre Company. Set up by Bob Maza in 1990, Ilbijerri would become the longest established First Nations-run theatre company in Australia. Drawing its name from the Woiwurrung word meaning 'Coming Together for Ceremony', Ilbijerri have been providing opportunities for First Nations artists and industry professionals to create that, as stated on the company's website, 'give voice to our cultures.'ᶦᵛ 
In 1997, Playbox presented a co-production of Up the Road by John Harding. Centred on a First Nations Canberra Bureaucrat returning home to the remote Aboriginal community of Flat Creek, the play had premiered as Ilbijerri Theatre Company's first production in 1991. Harding described the play as being about 'the humour that comes from the irony when the grandfathers of the planet are treated like children.' During the Writer's Forum at The Malthouse in 1997, Johnny Harding spoke of the issues of well-meaning non-Indigenous people who don't know about the nuances and complex elements of being Indigenous. 'The play deals with the fact that there are a lot of well-meaning non-Aboriginal people out there, who read all this research, and think they know who we are.'  
 
According to the Playbox 1997 Evaluation Report, audience responses, particularly in the audience discussions to Up the Road were predominantly positive. The production was featured on the VCE Theatre & Drama Studies syllabus, and many of the young audiences surveyed stated they'd had no previous knowledge about Aboriginal communities, and were wanting to know more. This new production was directed by Neil Armfield, co-produced with Belvoir, and led to Harding's win of the Human Right Medal for Arts in 1997. 

Stolen by Muruwari playwright and researcher Jane Harrison would become the next important milestone for Playbox's support of First Nation's stories. The play was commissioned by Ilbijerri Theatre Company in 1993, and written before the 1997 Bringing Them Home report. Working with Kuku Yalanji advocate and researcher Antoinette Braybrook, Harrison developed the play from stories from the community, who came and told their experiences. Scenes were improvised and acted out by Koorie actors while working with a dramaturg, and regular consultation with Ilbijerri was crucial to the process. At the 1998 Writers Forum at Playbox, Forum, Harrison said it was time for the wider community to hear these stories. 'Everyone's ready for it.'  
 
Stolen focuses on the stories of five First Nations characters who were forcibly removed from their families, sent to a children's home and trained for domestic work. Originally titled The Lost Children, the title changed during development when audience members argued that the children were never lost: they were stolenᵛ. The play premiered through a partnership between Ilbijerri and Playbox in October 1998, under the direction of Noonucal and Nugi writer and director Wesley Enoch. It had return seasons in 1999, 2000, 2001, 2002, and would tour to the Tokyo International Festival in 2003. Stolen continues to be a significant play for Australia, going on to win awards and be staged by numerous companies.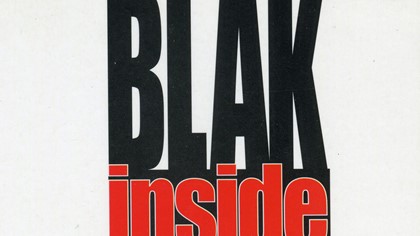 Blak Inside performed to a sell-out season, and received great reviews, even when it was acknowledged some plays needed more work than others.
The success of Stolen paved the way for further collaborations between Playbox and Ilbijerri, most notably through the Blak Inside program, where the two companies shared commitment to new Australian writing brought six works by established and emerging Victorian Aboriginal playwrights to the stage. According to a 2002 Evaluation report, Ilbijerri chairperson John Harding described Blak Inside as 'one of the most important and successful events in the history of Black Theatre in Australia'ᵛᶦ 
Each production explored different themes affecting First Nations people. Conversations with the Dead by Richard Frankland, reflecting on his role as the Indigenous field officer into Aboriginal Deaths in Custody. Casting Doubts by Maryanne Sam looked at life as a First Nations actor trying to get work beyond type casts, and what identity means. Tracey Rigney's Belonging looks at a young Aboriginal woman's struggle with identity during the tumultuous time of adolescence. Crow Fire is a play about an urban Aboriginal woman who works as a public servant, who tries to ignite a fire in people to inspire them. John Harding's Enuff looks at a violent uprising during Reconciliation Day in a version of Australia in the future. 
Blak Inside performed to a sell-out season, and received great reviews, even when it was acknowledged some plays needed more work than others. Initiatives such as Blak Inside need to be ongoing, as stories such as these by First Nations people are much needed, especially by First Nations audiences. We need to see more of these stories on stages. There can always, and should always, be more. 
As Playbox became Malthouse Theatre in 2004, First Nations artists have continued to play a key role in the company's program, featuring the work of high profile artists such as Wesley Enoch, Stephen Page, Vicki Van Hout, and productions such as Heart is a Wasteland and Barbara and the Camp Dogs. As the company's artistic remit shifted away from an exclusive focus on playwriting, we see the company programming more widely, looking to music, dance, cabaret, and collaborative work that reflects the diversity of forms First Nations artists use to tell stories.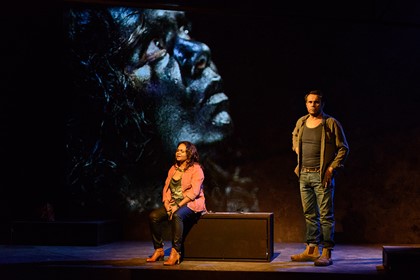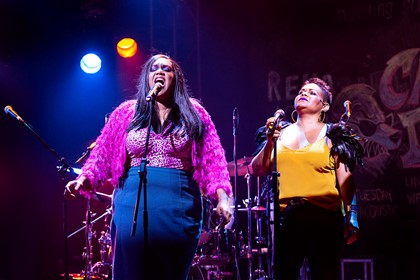 Heart is a Wasteland (2017)
Barbara and The Camp Dogs (2019)
Shadow King was written by former Malthouse Artistic Director Michael Kantor, and Murrungun actor and writer Mr. Lewis. A retelling of Shakespeare's King Lear, Shadow King combined Indigenous elements of story such as interweaving language and themes significant to First Nations people. Set in a remote community struggling against the pressure from mining companies, the adaptation addressed themes of land rights, lateral violence in communities, and deaths in custody. In an interview with Australian Stage, assistant director Melodie Reynolds highlighted the importance of the land rights theme within the production: 'We need to look at the state of our earth, our mother… how many times have we dug her up?' 
The project was developed over a number of years, starting through conversation between Lewis and Kantor in Beswick, NT, and a week-long workshop with six Indigenous actors at the Malthouse to see if a translation of Shakespeare's play was even possible. The play interwove the original text with Kriol, plus phrases spoken in Gupapuyngu language, a dialect from Yolgnu Country. Shakespeare's writing provided an effective foundation for a play that could be diverse in lyrical style and rhythm. In an interview with The Saturday Age, Mr. Lewis reflected that 'Lear is written like a songline.' 
 
Shadow King was well received by critics, and went on to be remounted and toured in the UK at the Barbican Theatre in 2016. Celeste Liddle reflected,'the use of a Shakespearean classic to tell an Indigenous tale of family destruction, greed, corruption and deception works strikingly well and makes the tale more accessible to a broader audience.'ᵛᶦᶦ Reflecting on the themes of the work, and the use of Shakespeare's text as a foundation, Mr Lewis told The Herald Sun 'It's not a show about blame, we're just telling our story. It's part of us and part of you, and it's so sweet to find something in common.' 
Walking into the Bigness is an autobiographical play of Gunditjmara man Richard Frankland's life. While Conversations with the Dead spoke directly to his experiences as a field officer into the Royal Commission into Aboriginal Deaths in Custody, Bigness takes us through his formative experiences–from when he's a young boy working at an abattoir to support his family, joining the army as a young man, and the philosophies that guided him through his work, in the Royal Commission and beyond. 
 
Walking into the Bigness is a production written by Richard Frankland, developed in a creative partnership with Chris Mead, and Wayne Blair. The creative team set up camp in a rehearsal space at The Malthouse, where they workshopped, wrote, rehearsed and staged the play. The play featured five actors – Yolngu Matha woman Rarriwuy Hick, Yorta Yorta man Tiriki Onus, and Palawa woman Tammy Anderson, and non-Indigenous actors Luisa Hastings and Paul Ashcroft. All of the actors played Frankland at different stages of his life, and their contributions were integral to the process. Frankland stated: 'Ultimately it's the director's interpretation of these stories—and the actors' as well.' 
 
Walking into the Bigness was well received by audiences, and the significance of the actors playing numerous roles is not missed by theatre critics. Chris Boyd of the Australian writes: 'The character doubling has an elegant secondary effect. It reveals that these people – family members, friends and lovers, are indivisible from what he (Frankland) is. They're like external personalities.'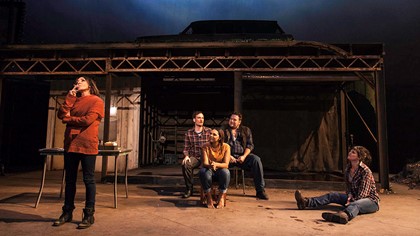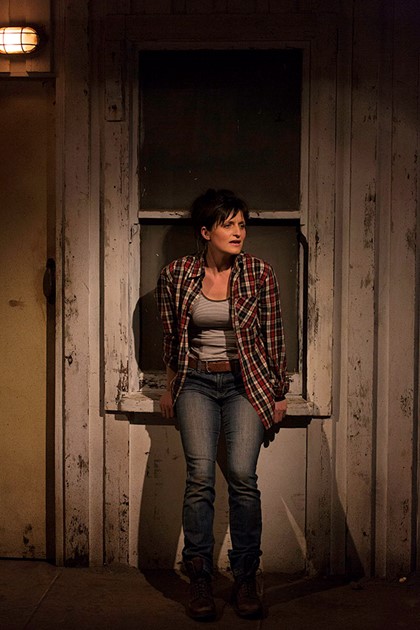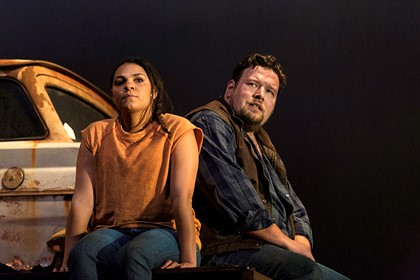 Walking Into The Bigness (2014)
Walking Into The Bigness (2014)
Walking Into The Bigness (2014)
Nakkiah Lui and the power of satire
Malthouse Theatre producer Jason Tamiru's Blak Cabaret format toured through regional Victoria in 2013 & 2014 with a shifting line up of high profile performers, including Uncle Jack Charles, Emma Donavan, Deline Bricoe, Kutcha Edwards and Bart Willoughby. Tamiru reflected on Blak Cabaret as a 'a platform for our people, but it's not under the banner of NAIDOC or the Sorries or Recognition. It's a cabaret show, featuring some wonderful performers who also happen to be Aboriginal.'ᵛᶦᶦᶦ In 2015 it became a mainstage production in the Malthouse Forecourt, and Malthouse's first collaboration with the increasingly prolific First Nations playwright and actor Nakkiah Lui. Featuring Kamahi Djordan King as Queen Constantina Bush, it tells the story of a Blak invasion of white Australia. stealing the native white people's sacred' texts (Fifty Shades of Grey), and forcing them out of their cultural attire (board shorts and thongs).  
 
This would be the first of a series of Malthouse productions by Nakkiah Lui, offering a distinctive and provocative new voice that speaks back the radical history of Black Theatre in Australia. Her 2016 play Blaque Showgirls—a satire loosely based on the 1995 film Showgirls—told a hilarious and confronting story of belonging, through the eyes of a young white-passing 'blaque' girl Ginny chasing her dreams of becoming the best Aboriginal showgirl in Brisvegas. I remember seeing that sit pretty uncomfortably with white audiences, as echoed by one reviewer  who reflected on their companion being offended when they saw the show.ᶦˣ. For me, this was kind of satisfying—sometimes that's what learning looks like.  
 
Another of Lui's plays definitely not for the faint of heart, was Blackie Blackie Brown. Described as a 'live action comic book,'ˣ Blackie Blackie Brown is a superhero story about a First Nations' archaeologist on a mission to seek revenge for the killings of her great-great- grandmother's people. The story received negative attention before it had premiered, a journalist allegedly emailed co-producer Sydney Theatre Company concerned that the show was glorifying the killing of people based on the colour of their skin. This despite the fact First Nations, Black, and People of Colour have been dying and suffering for the sake of white character's stories since the first Australian play by Henry Melville in 1834.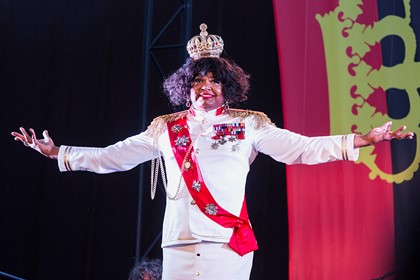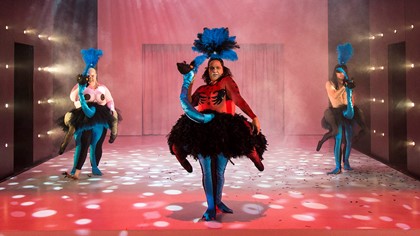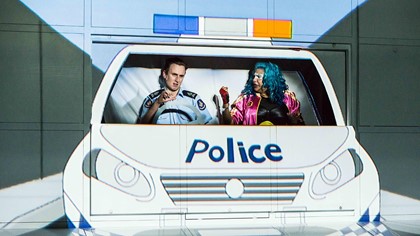 Blackie Blackie Brown (2018)
The Malthouse has proven to be a great space for First Nations people to create, workshop and stage their productions. The works not included directly in this essay speak to the breadth of forms in which First Nations artists choose to tell stories, and the ways in which that aligns with Malthouse Theatre's expansive approach to theatre-making. From Wesley Enoch's Black Medea to John Harvey's Heart is a Wasteland and Jada Alberts' Brothers Wreck, Malthouse Theatre has supported some iconic First Nations artists. It is through contributing to better representation of First Nations people, that we can begin to see real change in the way we're able to tell our stories, even when they're not always easy to hear. 
 
It's nothing new to say representation of First Nations people needs to be improved. The performing arts is only a small part of this, because we don't live in auditoriums where Mob are given the space to speak their stories. When these performers go back out in the world outside the theatre, the inequalities of this country, are still there. It was noted in the Malthouse Theatre's media report of Shadow King, some of the cast members of the production had to deal with racist treatment from taxi drivers and on public transport.  
 
Even in the cocoon of the auditorium–a space for people to listen–people aren't always ready to listen unconditionally. During my brief time as an usher at The Malthouse, I'd seen people opt out of some stories being told by First Nations people, or choose to leave the theatre because they were offended. However, this just highlights the importance of more representation of First Nations people and their stories needing to be present on stages. Through the increase of First Nations stories, and casting First Nations actors in productions, it can create more opportunities for white audiences to learn about us and not question how we fit in stories on and off the stage. But most importantly, this is a chance for First Nations people to see more stories on stages we can relate to. 
Carissa Lee is a Noongar actor and writer born on Wemba-Wemba country. Since graduating from Flinders Drama Centre, she has featured in stage and film productions locally and interstate. Carissa also works as a cultural script consultant and dramaturg, having consulted film and theatre. She is about to submit her PhD in Cross-Cultural Collaboration in Indigenous theatre with The University of Melbourne.
A member of FNAWN, her writing has featured in The Guardian, Junkee, Witness Performance, IndigenousX and The Conversation. Carissa is currently the Indigenous public policy commissioning editor at The Conversation, while pursuing work as an actor and writer.
ᶦ Casey M. Nindethana and the national black theatre: interrogating the mythology of the new wave. Australasian Drama Studies. 2000;April 2000(36):19 - 33. 
ᶦᶦ Austin, Karen. Talkin'Blak: Humour in Indigenous Australian Theatre, 1970− 2000' Philament 20 (2015): 129-163. URL: https://www.philamentjournal.com/wp-content/uploads/2019/05/Austin_Article_Talkin.pdf 
ᶦᶦᶦ Katherine Brisbane, 'The Future in Black and White', Currency Press Pamphlet, 1994, p 6 
ᶦᵛ Ilbijerri Theatre Company website. URL: https://ilbijerri.com.au/about 
ᵛ Enoch, Wesley. 'Making History Directing: the first production of Stolen', Stolen,  Currency Press, 2006. 
ᵛᶦ Playbox Theatre Company 2002 Evaluation Report 
ᵛᶦᶦ Liddle, Celeste. "The Shadow King – review", Guardian Australia, 17 Oct 2013. URL: https://www.theguardian.com/culture/australia-culture-blog/2013/oct/17/shadow-king-melbourne-review 
ᵛᶦᶦᶦ Jason Tamiru, as quoted by Liza Dezfouli, "Blak Cabaret", Beat Magazine, 2015. URL: https://beat.com.au/blak-cabaret/ 
ᶦˣ Suzanne Sandow, "Blaque Showgirls." Stage Whispers, 2016. URL: https://www.stagewhispers.com.au/reviews/blaque-showgirls 
ˣ Carey, Patrick. "Nakkiah Lui unleashes vigilante Aboriginal superhero 'Blackie Blackie Brown' in her new comedy". ABC News website, 23 May 2018. URL: https://www.abc.net.au/news/2018-05-23/blackie-blackie-brown-flips-script-on-indigenous-trauma/9786868