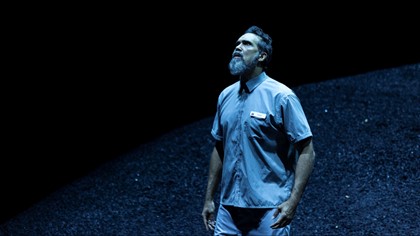 Photographer: Pia Johnson
How would you describe The Return to a friend?
The Return is about repatriation of Ancestors back to Country. There is, though, a horror story twist in that it will hold a black mirror up to how humanity has led to this behaviour in the first place. Both harrowing and uplifting while making Australian theatre history in our own time.
It's a colossal undertaking, and very personal story to be stepping into. What excites you about making this kind of work, and how do you look after yourself along the way?
I am always privileged to tell people's stories. Never forgetting this helps me to prepare for the work as well as looking after myself during the work. I have been given the opportunity to talk about and unpack the sensitivities about a facet of Indigenous rights and fights that often take a back seat to land rights issues, black deaths in custody, and stolen generations (which of course are also important to talk about, expose and reconcile); the repatriation and reclamation of the remains of our people and warriors. The gym also helps a lot to get the emotion out of your body before and after work...
You're an actor, a teacher, and a parent—all of which involve storytelling and caretaking for the future in different ways. How do these different roles come together or inform you for you? 
Being a teacher, I know it's important to explore these issues to help to mould the generations ahead of us so they can assist in reconciling and dismantling the system that oppresses and benefits from the dispossession of our mobs. The practical knowledge of constructing and deconstructing texts as a teacher also helps to analyse and mine the script for those subtle nuances to hone in on and place in front of the audience with a meticulous fashion of clarity.
Being a parent helps me to find the empathetic emotional journey of the piece. You just can't tell this type of story without love in your heart.
Being an actor allows me to safely portray the negative aspects of some roles safely. Knowing that this story can't be told without these characters being truthful to their emotions, moments and information that they put across to complete the full life of the drama helps me to detach from the roles themselves and not walk away feeling like the most hated man in the room. They are simply needed for the play and I serve the play, so I need to do these roles with just as much conviction and truth as any other role. And then, let it go before I walk out of the dressing room after the show.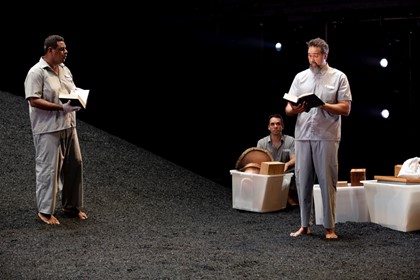 Photographer: Pia Johnson
Every scene in this play takes us somewhere new and unexpected. What scene do you love most and why?
I really like the innocence that Guy Simon's character, Jackson, brings in the beginning 'Your gaze is arresting' is my favourite line. The particular choice of words coupled with the way he delivers this line is my favourite—the innocence of not knowing how to perform let alone be real to who you are is the journey that he then comes to explore in all its vivid horror to eventually transcend the hurt and pain of the truth to reach where he belongs is a full and lasting journey. I feel this line is really the springboard for this arc. We go with him at a fast pace after that moment and get really, really, really drawn down into the darkness before we even realise we're there. We are rewarded for going with him though, it's truly beautiful.
The Return is a landmark production with huge resonance. What impact do you hope this production has on an audience?
Oh wow. I don't even know how to tackle this question. I want to create a culture in Australia that becomes cyclical. Where the young look after the old, the rich really do look after the poor and not just with 'trickle down economics', and we start to make more concerted efforts to look after Country instead of enforcing foreign agriculture and mining onto it. Without the land we are nothing. We need 'Australians' to adopt Indigenous ways of life to truly sustain this continent, the globe even. Why do we expect new Australians and immigrants to adopt the Australian way of life when the Colonials haven't done it in the first place?! I want our mobs' stories to underpin Australian life and political decisions, not the romanticism of bringing to heal a new land that Banjo would have us celebrate. I want land rights and I don't mean as a black issue, I mean that the land itself should be able to grow, live, be healthy and not be plundered as it is living and deserves the rights of those who live on it. To quote another great Malthouse original play, The Shadow King, 'The land doesn't belong to us. We belong to the land'. Our mob are part of this land and they all, all of them from history, need to be returned to it...
Damion Hunter, actor, loves creating heartfelt performances in all areas of his craft including hip hop. Recent credits include feature films, The Last Ark, Mother Mountain, and Smoke Between Trees. Damion has also appeared in The Shadow King (Malthouse Theatre), The Visitors (Moogahlin Performing Arts), and Djurra (NORPA).