Spotlight
Five Questions with Khisraw Jones-Shukoor
'If you want it, you better believe me when I say you can have it. In fact, you deserve it.'
Posted Sep 09, 2021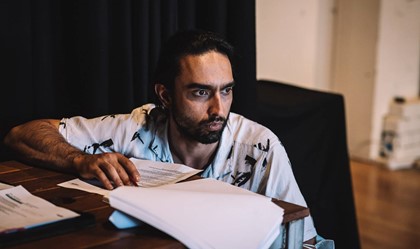 Photographer: Kristian Gehradte
Khisraw Jones-Shukoor is an actor who has performed in several productions across Melbourne including Oil (Red Stitch Actors' Theatre), Them (La Mama Theatre), Romeo and Juliet (The Australian Shakespeare Company), The Way Out (Red Stitch Actors' Theatre), and Macbeth (Melbourne Theatre Company).
He made his Malthouse Theatre debut this year playing Hamlet in our immersive theatrical adventure Because The Night.
How did you get involved in Because The Night?
I didn't really know about Because The Night until I auditioned.
Going forward I learned about the story and the scale of the piece, I was beyond excited! Not only were the team using Hamlet as a foundation to build from but the set itself was something everyone could explore, I'm in absolute awe of our creative team.
But leading up to rehearsals I had no idea what to expect, I hadn't seen anything like it.
Hamlet is one of the most iconic roles in Western theatre. This is a new take, new writing, and it's your take. What does it mean to be taking on the role? What's your vision for Hamlet?
I understand the weight that Hamlet carries through history and our art form. And my god do I love Shakespeare's work.
But in the end, Hamlet is a human being. A human being that is grieving, that is betrayed, suspicious and in love. And what I wanted was to show him the respect all human beings deserve in this form by acting as a conduit and by giving something of myself and my experiences for people to connect with.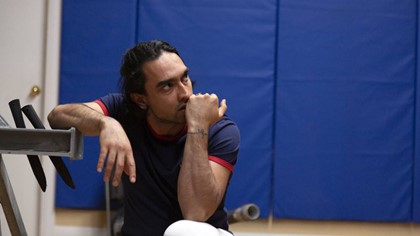 Photographer: Kristian Gehradte
What's your process for developing a character?
My process is never quite the same. And it'll be different for every artist. But it all begins on the page with things like mining the text, understanding the story, my part in it, the facts, the circumstances, the emotional journey, researching into things I don't understand and collaborating with the director and my fellow actors.
It's also a combination of what I studied and what I intuitively think will help bring life to the character. For instance with Hamlet, I found that fidgeting really helped express his internal uncertainty. I also gave him a secret, which you will never know muahahaha!
Who are your acting inspirations?
Bill Nighy. He played Billy Mack in Love Actually. What a dude. I just love how he throws in idiosyncratic behavior into his characters, it works so damn well. I saw him once at the Nova in Carlton. He was walking by me and I waved. He waved back. It was awesome.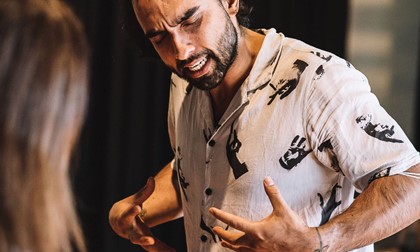 Photographer: Kristian Gehradte
What advice do you have for folk from other minority groups who want to pursue acting?
In the words of Denzel Washington: Discipline and Consistency. If you want it, you better believe me when I say you can have it. In fact, you deserve it. Just work at it.
Do a play, shoot some stuff. Write, write, write your own work. Build relationships and don't forget to go out and live your life and learn. Give your gift to the world. And me! Don't rip me or yourself off while we're on this planet. We need you.