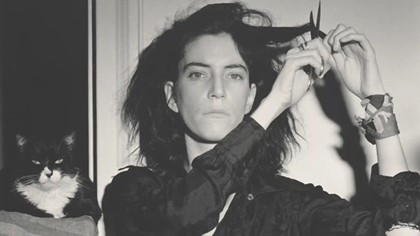 Photographer: Robert Mapplethorpe
I've been reflecting on the winter lockdown in 2020 when Matt and I were thinking about what to do, how to make theatre that could withstand the pandemic—all the things we were missing about live performance, and being out in the night. Patti Smith's song Because the Night was on high rotation in my head and became the working title for the show. Until it stuck.
I love this image taken by Robert Mapplethorpe; Patti cutting her own hair, with a cat nearby. Cats and home haircuts—so much a part of lockdown life.
I have many memories of this production—highs and lows but the best is from right at the very beginning. It was the moment when everyone said YES to the idea. We all knew it would be hard. We knew it would be risky, but we did it anyway.
Sarah
Sarah Neal is Malthouse Theatre's Executive Producer & Co-CEO.
For more reflections from the team behind Because The Night, jump over to our Instagram: @malthousetheatre