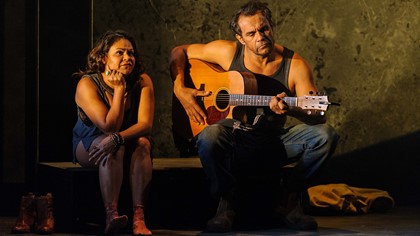 Heart is a Wasteland (2017). L-R: Ursula Yovich as Raye, Aaron Pedersen as Dan. Photographer: Deryk McAlpin
Although I have been living in Melbourne for more than a decade, I am and always will be a visitor on this land. I wish to acknowledge the traditional custodians of the land we share this story on, the people of the Boon Wurrung and the Woiwurrung. I pay my respect to all our elders past and present.
I stepped off the mainstages because of the lack of Indigenous stories being driven by Indigenous people—specifically in the key roles of writer, director and producer. There was certainly a pull to return when my brother John asked me to direct his debut as a playwright, Heart is a Wasteland.
The space we hold as Indigenous storytellers is precarious within mainstream theatre. In my 18 years of experience, the majority of stories that dealt with Indigenous content were told by non-Indigenous people. Having autonomy over our stories is the custom of cultural maintenance that Indigenous people have been practicing since before time. The focus is not just about story arc and structure and dramatic outcomes, or how many people we can get through box office. It's also about following cultural protocols, understanding the portrayal of a people, and understanding the language and propaganda that perpetuates media stereotypes.
When we are not in the driver's seat, telling stories about us—my experience is that this kind of focus is consistently omitted.
You would hope that in 2017 this wouldn't be a topic of a theatre director's notes. But it is.
Although a lot of Aboriginal and Torres Strait Island people don't live on their nations lands, we have a respect, an inextricable connection—we feel the past pain of the land that we do reside on. We come from a long line of spirituality that is deep in the land.
What sparked my interest the most is the heart of this play—the human story of loss, grief, the need to be loved, the yearning to do better with our lives—played out through Raye and Dan. At the core of the story and central to these two contemporary Indigenous characters, is the land that they traverse and live their lives on. It holds so much pain that is yet to be resolved. Themes of displacement, dispossession, poison land, loss of land, living away from homelands/country and travelling through other people's country reverberates in the hearts and minds of these two characters. As a theatremaker, when sharing Indigenous stories with predominantly non-Indigenous audiences, an important question I continually explore is: what is the audience's role?
They have entered a constructed space that is loaded with messages and cultural referencing. As Indigenous storytellers, how do we communicate our stories so we are not always the educators, but leaders in the accurate portrayal of our people? How do I shift the privileged gaze to look deep within the hearts and minds of Raye and Dan? I am interested in the fusion of film and theatre, not as an expositional design element, but to convey another level of subtext in the characters: to reveal something deeper. For me this is an ongoing exploration of the live performance form that reflects how we want to tell our stories. Assembling the same incredible creative team that began the conversation in 2014 with My Lover's Bones is also crucial to this exploration.
The next time you see a show with Indigenous content at the core of its story, look within the program and find out if Indigenous people are the key creatives, the key administrators. Let us make our own failures, our
own successes.