Reflection
I'm not a TikTok comedian. I'm a comedian who uses TikTok.
Aurelia St Clair reflects on how social media can be used as a powerful tool for up-and-coming comedians, but it isn't always a personality trait.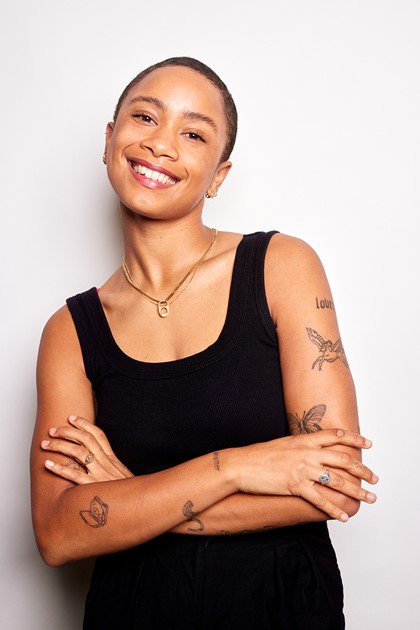 Mid last year, a journalist reached out to me for a piece titled "Forget open mic nights, TikTok is where aspiring comedians are trying to make it".
I'd just come off a nearly sold-out run at the Melbourne International Comedy Festival. It was my second solo show and my fourth overall show at the festival. I started out at open mics in 2018, often performing at the back of dimly lit bars or upstairs at Club Voltaire (a tiny 30-seat independent venue in North Melbourne down a laneway) There's a 500-seat, old school comedy establishment around the corner, on the main street, and it's not uncommon for both clubs to have a comedy night at the same time. 
This is what Club Voltaire and many other open mics looked like when I started doing comedy: 
At 7 pm, dozens of comedians would rush in so they could write their names on a signup sheet before sign-ups closed at 7.30. The room runners, who were just slightly more seasoned open mic comedians, would then cut up the sheet so each name was on an individual piece of paper, throw them in a bucket and pull out the names of whoever would perform that night. You had up to 5 minutes on stage, and someone would either ring a bell or flash a torch at you from the back of the room to let you know to get off the stage when your time was up. If you went over your allotted time, they'd start blasting music. The audience was mainly other comedians waiting their turn to get on stage, and the odd punter who had the option to pay a gold coin donation into the signup bucket once the show was over. 
"So, what is it like to be a TikTok comedian?" the journo asked me. I was lowkey offended at the question and then I remembered: she'd never anxiously waited for her name to be pulled from a bucket. So I said, "I'm not a TikTok comedian. I'm a comedian who uses TikTok." 
Social media played a big part in the success of my post-pandemic comedy festival shows. It all started with me making videos roasting suburbs in Melbourne and Sydney to pass the time while I was stuck at home with Covid. I didn't do stand up in the videos per se, but I used the skills I'd learnt on stage on camera. I quickly amassed local followers who could relate to my quips about bad housemates and the fact that Carlton is fully "non-dairy presenting".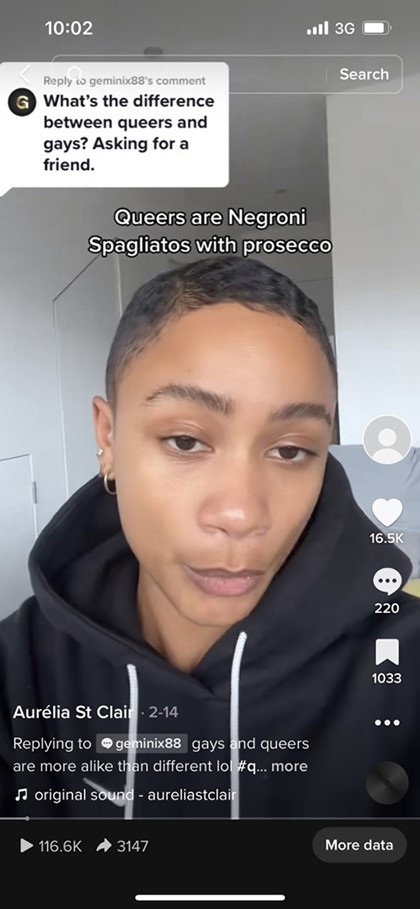 The rise of social media platforms like TikTok and Instagram has brought about a significant shift in the way that comedians are able to share their content with the world.
In the past, aspiring comedians would have to work their way up the ranks of the stand-up comedy circuit, performing at open mic nights and small clubs in the hopes of being discovered. It would often take years to be well-known enough to pull a crowd.  

I was able to reach a new audience and build a following from the comfort of my apartment. TikTok's short-form videos are designed to go viral, using humour and our 15-second attention spans to engage viewers. Videos can be shared with anyone who has a TikTok account, which is free, doesn't require a TV, radio or agent and means that we can reach an audience that is far larger and more diverse than the traditional stand-up crowd. The TikTok algorithm suggests videos to users that they are likely to engage with, which means that you're reaching your target audience automatically. And I know that my videos are being watched by people who may not have sought out stand-up comedy content on their own. After my shows, I often receive DM's from audience members telling me they took their friend to their first stand-up show ever.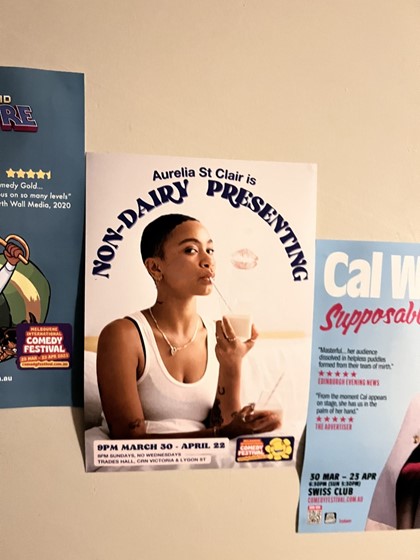 Social media allows up-and-coming comedians to bypass the gatekeepers of traditional stand-up comedy.
It's levelling the playing field by giving us access to a new and non-traditional stand-up audiences. Comedians are now able to leverage their following to get booked for live performances, receive grants, and secure other industry gigs like acting or writing. This also means that comedians who may not have had access to the traditional stand-up comedy circuit have a new and powerful way to get noticed by the people who can help them advance their careers. 
Of course, there are some downsides to this new world of social media stand-up comedy. For one thing, the short-form nature of platforms like TikTok and Instagram means that you don't have the opportunity to develop material in the same way that you would in a traditional stand-up comedy setting. This can lead to a focus on quick, one-liner jokes that are designed to grab attention but may not have the same staying power as longer, more complex routines. 
The fast-paced nature of social media also means that I often feel pressured to constantly churn out new content in order to keep followers engaged. This can be stressful and time-consuming, and don't even get me started on the trolling comments. Faceless profiles are emboldened to spew racist and sexist hate they likely wouldn't dare to heckle in person. 
Now, almost 5 years since first stepping foot on stage, and hundreds of 15 second videos later, I'm able to enter spaces online and offline with confidence.
I've arrived at a place where I can upload bite-size clips on TikTok by day to give audiences a taste of my material, and then travel into the city for a gig by night where they can experience the full meal.
There's an expansion of the term 'performer' and 'theatre', too. It's no longer just Shakespeare's Globe - it's the world wide web and there are many more players and artists to be discovered, even more definitions of performance. Performers, audiences and the arts scene overall are benefitting from greater access and exposure to work they might otherwise have missed out on.