Reflection
Provocation: Unpacking Innovation
'How do we get past the splashy label, the anticipation of some mind-blowing conceptual trickery, and the easy adage that everything 'new' has been done before?'
Posted Feb 03, 2021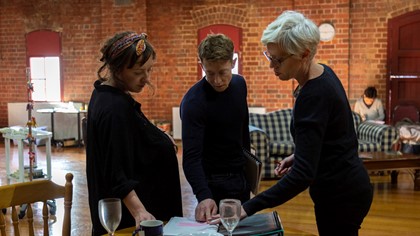 Australian Realness (2019) Rehearsals, Photographer: Pia Johnson
Mark Pritchard considers how we might get past the shiny label of 'innovation'.
In her essay On the Virtues of 'Open Source' Innovation in the Arts1, dramaturg Duška Radosavljević opens by arguing that artistic innovation as a concept is entirely overrated. For her it's a buzzword that implies value, but always lets you down when it turns out to be similar to something you've seen before.
We've got similar suspicions about the term, but it keeps coming back to haunt us. We've been having lots of corridor conversations about what 'innovation' means to us, why it keeps rearing its head in our programming meetings, and how to know what genuine innovation is when we see it. How do we get past the splashy label, the anticipation of some mind-blowing conceptual trickery, and the easy adage that everything 'new' has been done before?
Innovation feels different to creativity or originality, which are more—or less a given on any artistic project. Innovation means intentionally working in a different way with the goal of achieving a different result. In that sense it's relative to your history and context—the work you've made, the work being made around you, and how a particular project might not just be new and inventive, but on some level marks a paradigm shift in practice. It might be something you can't aim for as a primary objective, but that comes out of necessity—that the work compels you to make some shift in the way you're working.
In resisting the obsession with novelty, innovation might also be about reconnecting with the essential principles of theatre, looking back in order to unpick some conventional hang ups. Resident Artist Kamarra Bell-Wykes defines innovation in playwriting as the practice of
'taking the known and pushing it beyond where it's been before to offer something new; be it about the process, the form, the narrative, the conversation, it transforms the expected into the unexpected and offers a new way of seeing the old.'
Ra Chapman, also a Malthouse Theatre Resident Artist, says
'Innovation doesn't necessarily have to be about reinventing the wheel or coming up with the most outrageous or abstract approach to or execution of an idea. It might be about reframing, recontextualizing or reinterpreting an ordinary or traditional approach to story, structure, genre or form. It might be about creating a new way to develop work, who you work with and how you approach collaborating and creating.'
The strength of the innovation might be in its specificity, and an artist's ability to combine familiar tools with some original contribution to the form.
Director in Residence Bridget Balodis frames it as a way of telling stories that break the current moulds.
'When I think about innovation in playwriting I think about new dramaturgy. I think about plays and stories that are told in a different way because they are trying to represent a new voice or perspective. They intentionally bend the rules we have about characters, and about how stories are told. The play doesn't have to dispense with all norms, but it must maintain some suspicion of tradition. I'm interested in methods of making that are different, that are designed in a particular way so as to capture and present different experiences, allowing voices that have been seen as 'other' or 'diverse' to come to the centre.'
With the call out for the Playwriting Innovation Award opening this week, we're curious to see how Australian playwrights respond to the term. In the application form we've tried to give ample space for writers to find their own approach to the innovation question, to wrestle with the audacity of calling your own work innovative, and making peace with some of the tensions in the word. The Award acknowledges innovation as a process, contextualising your proposed play idea in relation to the history of your practice. You'll also notice the award isn't for the 'most innovative' play, but for the significance of the innovation in the context of Australian playwriting.
At its core, this initiative is about the conversation itself, as we reengage with the question of how theatre works, and what kind of work we should be making in the future. The commissioned play will be an experiment, of sorts, and we want to bring audiences into that process, exploring how theatre might work differently. In our experience, the success or failure of a theatrical experiment can often hinge on whether the audience watching it has context. If you understand what the artist is trying to do, you're more likely to see the power of what they were aiming for, and relax into the experience of being taken somewhere new.
Mark Pritchard is the New Work Manager at Malthouse Theatre. He first worked with the company through the Besen Family Artist Program in 2013, before joining the artistic team the following year. Mark oversees all our play commissions and new work in development, and is the dramaturg on Season 2021's Because The Night.
1 Radosavljević, Duška. 'On the Virtues of "Open Source" Innovation in the Arts'. In: Innovation in Five Acts, edited by Caridad Svich, pp. 35-37. TCG (2015)