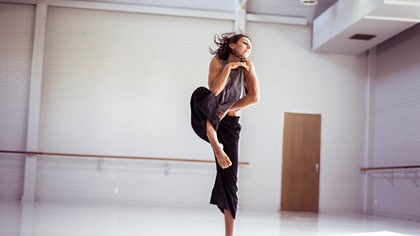 Photographer: Pippa Samaya
1. Tell us a bit about yourself. What was it that made you want to become a choreographer?
I grew up in the Canadian prairies and then in Tasmania. I was creating little dance shows from a young age, roping my younger sisters into performances, but I didn't take up serious training until I was in my teens which is a late start – particularly for a female dancer.
I can't remember ever making a decision to become a choreographer, it got its hooks in me early in life. Now I'm obsessed.
2. What inspired Skeleton Tree and what was your creative process?
The show is inspired by the great inevitability of death and the ways in which loss and grief affect us. Like a lot of people and most artists, I'm fairly obsessed with death. I didn't want the show to be morbid though. In my experience moments of deep sadness can also make us feel acutely alive. I was interested in creating a 'funeral playlist' of songs that would drive the structure of the show. We've created a series of vivid portraits or postcards of particular emotional states. Thirteen meditations on death.
The process is incredibly collaborative. The dancers and I work meticulously on one hand, making intricate, specific choreography, and then also with real freedom and instinct on the other.
3. Why is it important to explore grief?
Death comes to us all. It is one of the most elemental and deeply felt places in the human experience. I'm not sure that we deal with death very well, culturally. Although dance is a physical, abstract art form, it can articulate emotional and psychological states with stunning accuracy.
4. What is your favourite moment of choreography?
Too many to mention. The dancers blow me away every single day in the rehearsal studio.
5. What will audiences take away from Skeleton Tree?
I hope that audiences are deeply moved, exhilarated, given space to reflect. I hope they watch through the lens of their own mortality.
Skeleton Tree by Stephanie Lake premieres at Malthouse Theatre on 16 March. Presented in association with Dance Massive.