Spotlight
The Casting of the Magic Bullets // Musical Director & Supervisor's Note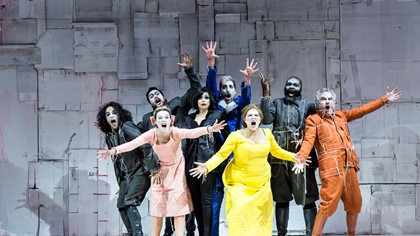 The Casting of the Magic Bullets (2017), Photographer: Pia Johnson
'WHAT ARE THEY BUILDING IN THERE?'
So ran the questions outside the Malthouse Theatre rehearsal room during the preparations for Black Rider: Tom Waits' and William S. Burroughs' brilliant re-imagining of the age-old German fable The Fatal Marksman. What was being built was a production that seeks to honour the long legacy of Waits' distinctive musical style—a style driven by his whip-smart intellect and singular aural aesthetic.
Equal parts hobo cabaret, Morricone Western and liquor-drenched vaudeville, the music speaks to the traditions of Weimar cabaret through the lens of toolshed percussive invention and down-home Americana.

The score is built around an instrument synonymous with Waits—the pump organ—in our case a newly refurbished American Missionary Organ dating from the 1860s. He has built much of the rest of the score around lower register instruments: contrabassoon, bass clarinet, bass trombone, tuba, upright bass and cello.
There are also, as is to be expected, a series of more idiosyncratic instruments: the musical saw, a toy piano and found-object percussion instruments including, of course, a kitchen sink.

What a joy it has been to work with such a fantastic bunch of misfit musico-dramatic actors who are as generous as they are audaciously talented. What an equal pleasure, too, to work with a pit full of technically brilliant multi-instrumentalists. This is a work that is owned collectively by all of us, and we thank Tom Waits for his jewel of a score.

MUSICAL DIRECTOR & SUPERVISOR / Phoebe Briggs and Iain Grandage
The Fatal Marksman served as the basis for Carl Maria von Weber's 1821 opera Der Freischütz.