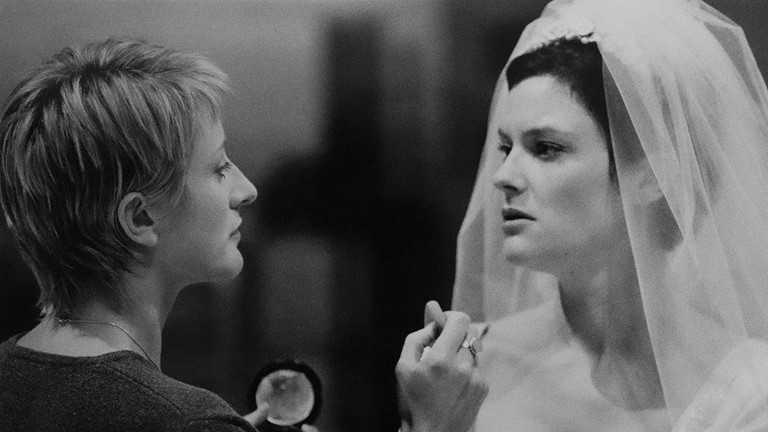 Production still for "Secret Bridesmaids' Business". L-R: Kate Johnston as Lucy, Ulli Birvé as Meg Bacon. Photographer: Jeff Busby
Secret Bridesmaids' Business (1999)
09 April 1999 – 08 May 1999 Merlyn Theatre
Playbox Theatre Company,
New Writing Theatre World Premiere
It is the night before Meg's wedding. She and her bridesmaids are planning to kick up their heels as the final hours before the big day tick down. However not everything goes to plan as a last minute scandal threatens to ruin the whole affair.
Elizabeth Coleman's wonderful characters bring this seriously funny play to life. Never far from reality, it exposes the insanity that can be created as the wedding juggernaut threatens to swerve out of control. Marriage may be a wonderful thing, but after a night like this, well, could it really be worth it?
This production toured to Sydney Theatre Company's Wharf Theatre in May this year. The play went on to tour in 2000 with a new cast.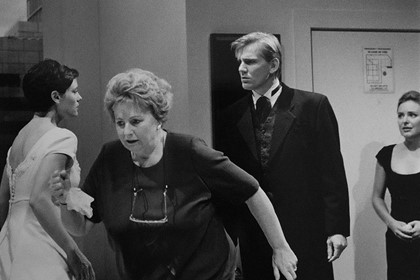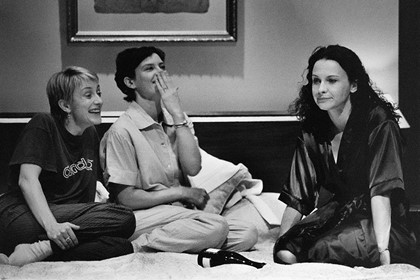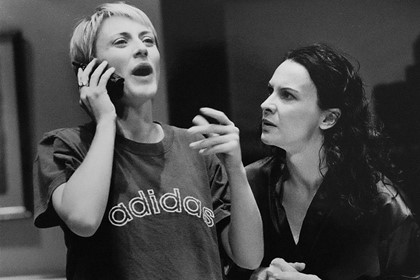 Production still for "Secret Bridesmaids' Business". L-R: Ulli Birvé as Meg Bacon, Joan Sydney as Colleen Bacon, Fred Whitlock as James, Rachael Beck as Naomi. Photographer: Jeff Busby
Production still for "Secret Bridesmaids' Business". L-R: Kate Johnston as Lucy, Ulli Birvé as Meg Bacon, Tara Morice as Angela. Photographer: Jeff Busby
Production still for "Secret Bridesmaids' Business". L-R: Kate Johnston as Lucy, Tara Morice as Angela. Photographer: Jeff Busby