Production still for "This Way Up". L-R: Marian Haddrick, Luke Elliot, Mandy McElhinney, Stewart Morritt. Photographer: Jeff Busby
This Way Up
15 November 2001 – 21 November 2001 CUB Malthouse
Playbox Theatre Company,
New Writing Theatre World Premiere
This Way Up could be best described as your typical garden-variety tale in what is a soap styled drama about love and human relationships.Four young people are forced to re-assess their lives when they are confined to their home because a neighbour is under siege by police.
Here's the story in a nutshell, girlfriend doesn't want boyfriend working away all the time and if he doesn't stop she will leave him. Goofy family friend is in love with pretty older sister and hopes the break-up will work in his favour, meanwhile overlooked and under pretty younger sister yearns for his attention. Overlaying this particularly passé drama is a simultaneous sequence, involving a siege that takes place in the neighbour's house over a husband and wife disagreement about football teams. Sporadic updates on this hostile situation are delivered by police officer acting as liaison between the neighbours.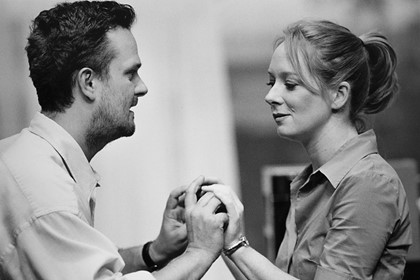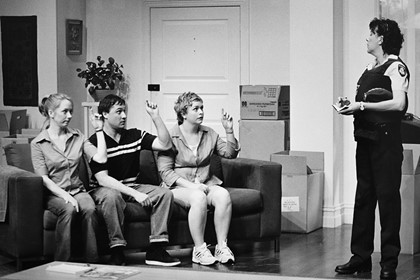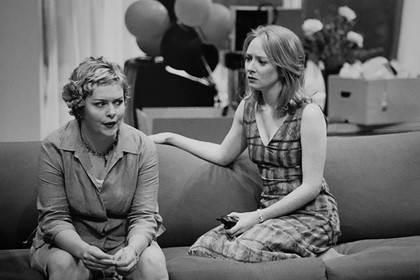 Production still for "This Way Up". L-R: Stewart Morritt, Mandy McElhinney. Photographer: Jeff Busby
Production still for "This Way Up". L-R: Mandy McElhinney, Luke Elliot, Marian Haddrick, Lynda Gibson. Photographer: Jeff Busby
Production still for "This Way Up". L-R: Marian Haddrick, Mandy McElhinney. Photographer: Jeff Busby