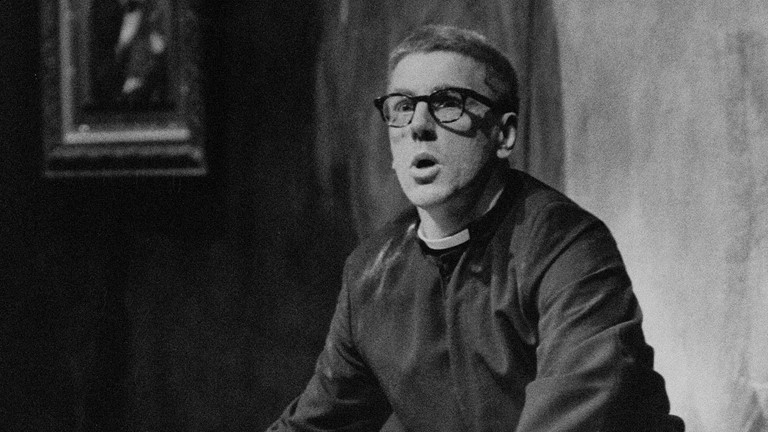 Production still for "The Christian Brothers". Peter Carroll as the Brother. Photographer: Per Holderness
The Christian Brothers
By Ron Blair
22 March 1978 – 13 May 1978 Playbox Theatre
Hoopla Theatre Foundation, Northside Theatre Company,
Theatre
A moving and funny dramatic monologue in which a teaching Brother grapples with personal anguish and a sense of time departed while trying to hold the attention of a class of unwilling students in a Catholic boys school.
Hoopla's publicity for the show read:
"An ageing chalky Catholic Brother, whipping his class with his ever ready strap, hounding them with his intolerance, rigidity and frustrations. A teacher, a tyrant, a bully, a weakling, a cajoler, a friend, a confider, an innocent, a self-righteous desperate man. Whether you've had a Catholic education or not, you'll love this very funny and strangely tender play." 
The production, originally staged at Sydney's Nimrod Theatre, was extended by popular demand. Presented with "Perfect Strangers", another short play by Ron Blair.