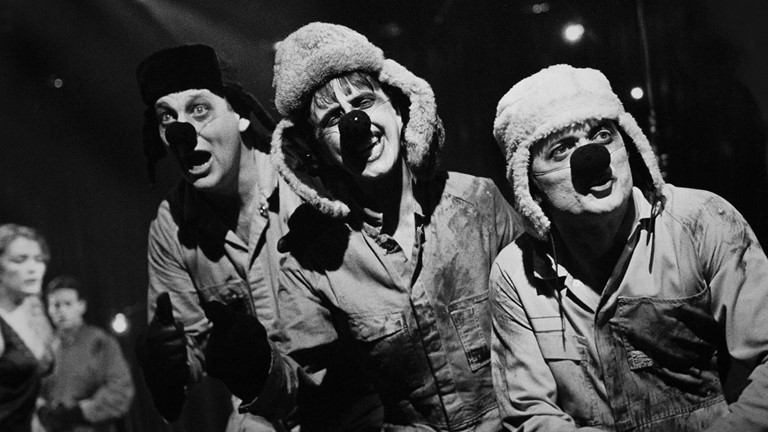 Production still for "The Dogs Play". L-R: Melita Jurisic as Jenna, Ben Rogan as Danny, Matthew Quartermaine as Dog, Tracy Harvey as Dog, Ross Daniels as Dog. Photographer: Jeff Busby
The Dogs Play and A Few Roos Loose in the Top Paddock
By Tee O'Neill
26 May 1999 – 19 June 1999 Beckett Theatre
Playbox Theatre Company,
New Writing Theatre World Premiere
Presented together, the vigorous contrasts of these two short plays create an innovative evening of comic, anarchic, physical theatre. Dogs are unleashed in all their loving, libidinous energy upon Jenna, a woman with an uncertain past and a dangerous future. Kangaroos are the sentinels, guardians of the land upon which Suzy and Pete build their dream lives. Both stories focus upon the desires of contemporary women – one urban, the other suburban. As actual onstage characters, the dogs and roos are both feral and spiritual – vaudevillian troupers providing comfort, laughter and inspiring passions in their human companions.
Dogs: Jenna is a city girl who lives and works in the innermost recesses of the teeming metropolis. But her dogs keep her grounded.
Roos: Suzy and Pete are about to have their suburban bliss shattered forever by visitors from a world about which they had never dared to dream.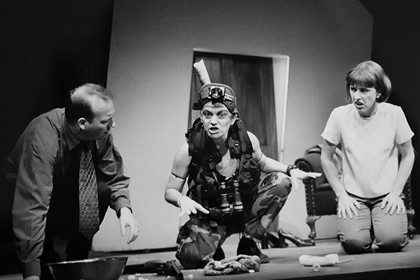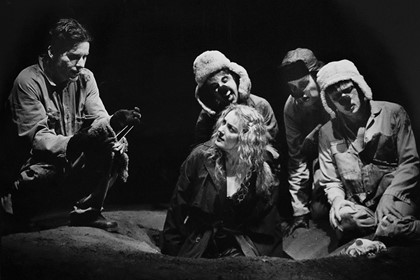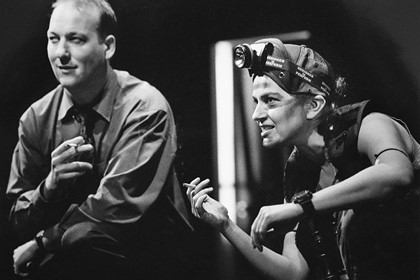 Production still for "A Few Roos Loose in the Top Paddock". L-R: Matthew Quartermaine as Pete, Melita Jurisic as Ruby, Tracy Harvey as Suzy. Photographer: Jeff Busby
Production still for "The Dogs Play". L-R: Ben Rogan as Danny/Dog, Tracy Harvey as Dog, Melita Jurisic as Jenna, Matthew Quartermaine as Dog, Ross Daniels as Dog. Photographer: Jeff Busby
Production still for "A Few Roos Loose in the Top Paddock". L-R: Matthew Quartermaine as Pete, Melita Jurisic as Ruby. Photographer: Jeff Busby