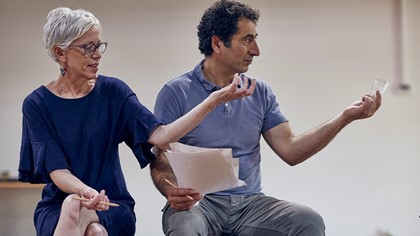 Good Muslim Boy (2018), Photographer: Tim Grey
Osamah Sami's memoir, Good Muslim Boy, is in turns thrilling, shocking, hilarious, confronting and tragic. It's life in all its contradictions: incongruous happenings, poignant meetings, laughter, loss and hope. When Osamah suggested we make a play out of it, I didn't take any convincing.
In the middle of last year Ali's Wedding— another adaption of the book billed as Australia's first Muslim rom-com—landed with a joyous thud in cinemas across Australia. Audiences laughed and cried as they followed Osamah's escapades as a young man finishing school and finding love. For the stage adaptation, we wanted to look at the events that occurred several years after those of the film, focusing on his relationship with his father and their trip to Iran in 2013.
Very quickly, it became clear to me that Osamah's presence onstage is what would make this version so special. This father-son tale is his own, he's actually lived it, and having him physically there brings such power to the work. His father meant a great deal to his religious community in Melbourne, as well as to his family and friends, but for Osamah he was a true hero.
Writing a new play takes a great deal of time and requires a considerable amount of support. Co-writing is a strange and delicate process that involves a lot of trust, intuitive decision making and a healthy dose of frankness. 
Our process, which started over a year ago, went something like this: an initial intensive two-week writing workshop, a lot of discussion, production of a first draft, endless edits back and forth, further discussion, a workshop with actors, a reading, more rewrites, more discussion, more emails, a second workshop with actors and a new draft, two or three more versions of this draft and then the production of a final rehearsal script, which was completely re-written again during the rehearsal period.
Osamah doesn't mind biting off more than he can chew and his energy, enthusiasm and drive are infectious. Working together on this show has been a joy and a privilege. I am very grateful to him for inviting me to help bring his story into the theatre. Thank you to the wonderful cast; Rodney, Nicole and Osamah; as well as the team; Romanie, Ben, Phil and Jess for their amazing work; special thanks to Alice Ansara, Luisa Hastings-Edge and Nicole Chamoun for their invaluable contributions during script development; particular thanks to Sapidah Kian for her wisdom and to the entire team at Malthouse Theatre for their generous support.
A big thank you also to the team at Queensland Theatre, which we look forward to visiting later this year.