Reflection
Giants in the dark: Eldritch Horror in Australian theatre
How do we dance while our earth is turning?
Alison Whyte asks us, the audience, collectively to close our eyes and experience 'the dark'.
She's Alyson Whyte, so of course I do what she asks. I wonder how many others in here are doing it too.
Darkness. 
It's an interesting thing. It encompasses so much. From a Jungian perspective, the dark is our own shadow.  Our repressed selves, all the ways and things that we are not, but might like to be. Our potential other.  That's a very binary reduction of Jung's ideas and Jung wasn't really hung up on the binary either, but this particular piece of archetypal thinking is relatively simple to grasp and so has made its way into pop psychology.
When I was afraid of the dark as a child, I used to try and calm myself with the question, 'What is there in the dark that is not there in the light?' Aliens, ghosts, demons, monsters…
The answer, obvious now of course, is the unknown. The threat you can't see, the approach you can't hear, the presence you can't sense. Until it's too late. The dark reminds us of our fragility. It reminds us of our weakness, our slowness, our smallness. In the light, during the day, under the gaze of authority, we can pretend that everything is alright. We can pretend that we are in control.
In the dark, we are confronted with the truth.
Terrible things happen/ed here.
We shouldn't be here.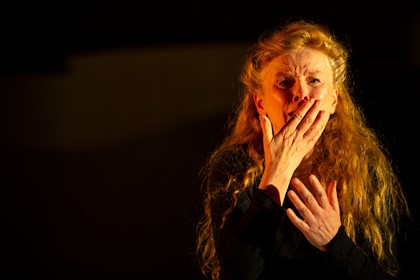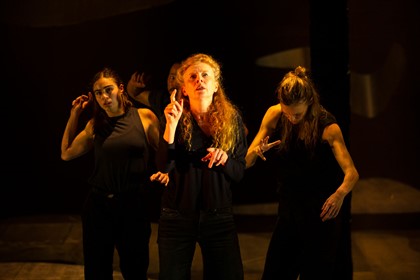 Production still for the 2022 Season of 'Monsters'. In Photo: Alison Whyte. Photographer: Pia Johnson
Production still for the 2022 Season of 'Monsters'. L-R: Josie Weise, Kimball Wong, Alison Whyte, Samantha Hines. Photographer: Pia Johnson
A recent article in The Guardian makes an, I'm sure well intentioned, plea for more attention to be paid to Australian plays. It asks again for the millionth time the same mind deadening question, 'why aren't there any classic Australian plays?' There repeated is the familiar canard that has plagued Australian theatre for far too long.
Now… the people quoted in The Guardian are friends, colleagues and mentors and they would be and have been among the first to leap to the defence of Australian theatre, so I don't offer the following as a rebuke or a criticism. Rather, I put it forward as evidence of how entrenched and how destructive this particular habit of thinking is and how it has shaped and still stunts our theatrical imagination.
This canard is the assertion that 'Australian theatre has no canon'. It's also sometimes manifested as 'There was no real Australian theatre before Summer of the Seventeenth Doll' or 'Before the First Wave in the 1950s, Australian theatre was mostly imported from America or England'.
None of this is true.
I have struggled to understand how this idea has persisted for so long. How can we be so seemingly willing to misrepresent and ignore our past? What's back there that can be so terrible?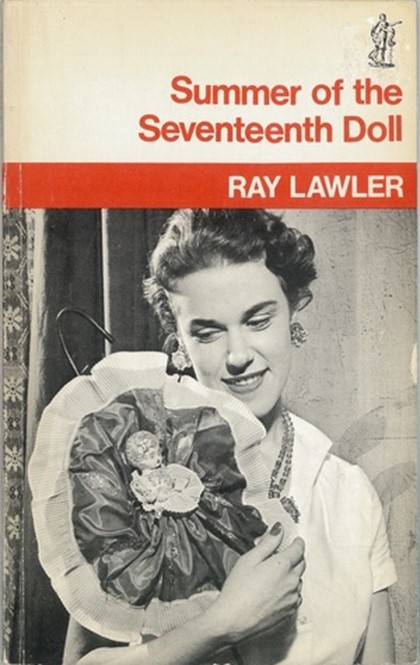 Summer of the Seventeenth Doll is an iconic play written by Ray Lawler in 1955. Image Credit: State Theatre Company of South Australia (2015)
Tom Holloway shared The Guardian article on Facebook, that's where I saw it, and I responded at the time that 'half the reason we don't have 'Australian Classics' is that no bastard will go look for them.'
I'm going to talk about the other half of that reason.
I'm not going to outline the history of Australian theatre in the European style that stretches all the way back to the first fleet. I've already done that comprehensively elsewhere, most recently in my live cabaret show An Unforgivably Brief History of Australian Theatre with Dr Rob. Nor am I going to describe the thousands of years of performance traditions among the First Peoples, as its neither my place nor my story to tell.
Instead, I'm going to try demonstrating the depth of canonical potential there is in Australian theatre by considering the current Malthouse Theatre and Stephanie Lake Company co-production, Monsters, in the light of the largely unrecognised vein of existential and eldritch horror that runs through Australian theatre.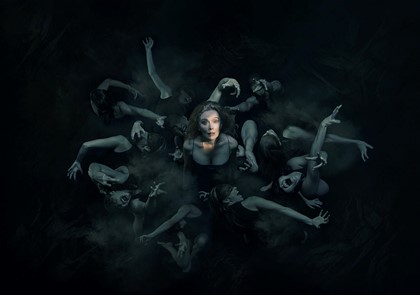 Campaign image for the 2022 Season of 'Monsters'. In Photo: Alison Whyte, Kimball Wong, Josie Weise, and Samantha Hines. Photographer: Tamarah Scott
'A sink hole has opened in the ground. This is the story of a woman who climbs into it. And what she finds.'
Emme Hoy's text builds on a simple conceit, the search of a woman for her sister who has disappeared. This search takes the woman down through a sink hole into a labyrinthine system of caves and tunnels that stretch deep under the city into the dark earth. The search for the lost child, the journey into the unknown and the driven, lone individual against the vast, indifferent landscape are tropes shared by two disparate (though perhaps not so distinct) kinds of storytelling. Existential horror and post-colonial Australian melodrama.
Matthew Lutton has dealt with these themes as a director in this way many times before of course. We've seen the same archetypes and, to an extent, the same aesthetics applied to his productions of Night on Bald Mountain, Picnic at Hanging Rock and The Bloody Chamber (notably also with Alison Whyte as narrator).
This collaboration with the Stephanie Lake Company introduces a fluid and inherently physical aspect to the experience, the eccentric movement between angular and languid, at times illustrating the narrative – the descent of the caver hanging by one arm early on in the journey is particularly spectacular – and sometimes suggesting the body horror and unspeakable phantasms of the preternatural.
Lastly, perhaps my eyes are failing me as I get older but, the use of shadow and darkness as part of the set and the 'lighting' is some of the most subtle and surprising I've seen. The interplay of darkness with the curves and angles of the set trick the eye into seeing shadows move. The darkness is almost alive, massive, and rolling around the stage, shifting and roiling around the little people huddling together in the light.
Monsters does not come from out of nowhere. All through the Australian cannon there are plays that take on impressionistic, suspenseful, and existential qualities when viewed with unprejudiced eyes. If viewed at all.  The gothic, epic, and surreal Australia that painters like Boyd and Nolan and Tucker and Hester saw is just as present in the work of Louis Esson, Katherine Susannah Pritchard, and Betty Rowland. Monsters follows in the footsteps of these giants in the dark.
Australian theatre in the European style begins in the 1800s and consequently reflects the styles of the time – romanticism, farces, well made plays, problem plays, symbolism, realism and melodrama. Of these perhaps melodrama tends the most towards the gothic, the Guignol, the extreme and the exaggerated. In his history of Australian playwrighting in the 20th century, Belonging, John McCallum observes that,
'If we stop thinking of the bush plays as bad realism and start thinking of them as good melodrama then we might rehabilitate many unfairly neglected works. The best bush plays have an excess rooted in popular culture that is not appropriate to traditional realism, but which justifies attention now that directors, actors and audiences are exploring new forms of presentational theatre that are frank about their theatricality.  There is nothing drably representational about early Australian melodramatic realism, but in the quest for Australianness what people noticed was the local colour, not the form'.
This habit of realism, or heightened naturalism, tends to persist in Australian theatre for some reason, probably related to the same core anxieties that drive our insistence on denying our history. Realism can tend to struggle with texts that call for a more inventive imagination, it can flounder with a play that is, as McCallum says, 'frank about its theatricality'.
McCallum also suggests that:
'The Bush legend was always going to be a problem for the new realist theatre because the central protagonist was a land, not a person. Instead of individuals, the agents that prompted dramatic events were oppressive heat, huge distances or long droughts suddenly interrupted by devastating floors or fires. The dramatic characters were the least significant things in a landscape that, hostile or seductive, was brought into imagined being over the course of a century. In many of the most enduring stories the characters were, literally, lost in it. Their identity – and by extension the much-discussed Australian Identity, or Australian National Character, or Australian Legend – was constructed by talking about and performing this loss and an associated search for a sense of belonging'.
Well, while we can agree or disagree with the authenticity of the search for belonging, what is certain is that in the performance of the national character as a small (if noble) thing struggling against an immense and uncaring landscape filled with lethal hazards,the loss being staged was, intentionally or no, equal parts the loss of homeland by exile for some, by dispossession for others.
Societies resultant from colonisation tend to demonstrate similar themes and structures in their literature during their occupation and during post-colonial periods. These include the recurrence of archetypes such as the lost or buried child, isolation from (urban) culture, and the landscape itself as an unsympathetic, even malevolent protagonist in the narrative.
As McCallum says, these themes and this writing calls for a presentational style that is more imaginative and evocative. Realism kills the atmosphere and the tension that can be created with many of these works. What lies beneath so much Australian theatre is a yawning void of 'Australianness' that we are anxious to fill but unwilling to venture into. For this reason, it has always struck me as tragic but not surprising that so many of our most inspiring theatre makers turn to European classics rather than interrogating the rich and fecund tradition of brooding, gothic, eldritch horror that is already here.
Waiting.
Un-searched for.
Unknown.
In the dark.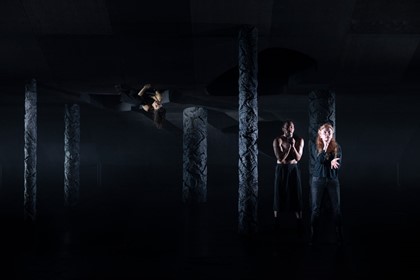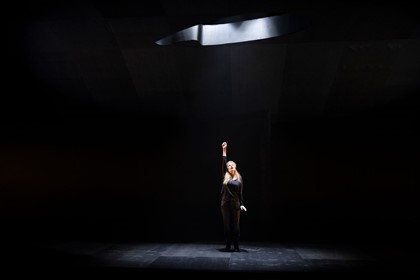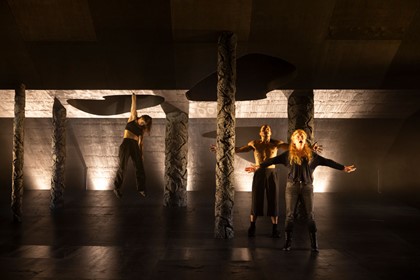 Production still for the 2022 Season of 'Monsters'. L-R: Josie Weise, Kimball Wong, Alison Whyte. Photographer: Pia Johnson
Production still for the 2022 Season of 'Monsters'. In photo: Alison Whyte. Photographer: Pia Johnson
Production still for the 2022 Season of 'Monsters'. L-R: Josie Weise, Kimball Wong, Alison Whyte. Photographer: Pia Johnson
Poet and playwright of the 1920s, E. J. Rupert Atkinson wrote four plays in a lyric and melodramatic style.  His play, A Nocturne, from 1919 is an expressionistic nightmare, filled with looming madness and enclosing walls.  Incidentally, in the production notes he suggests using multimedia as an approach to staging, specifically 'that the lifeless artificial scenery used in theatres could be most effectually replaced by cinema-views of people and objects, cast from behind the screen and made to harmonise with the acting on the stage'.
Darkness pervades the text. An example,
'My red brain
Is peopled with a million ghastly shapes;
Swarms of foul faces – living, yet long dead –
Crowd, crowd upon me: hear them, how they laugh!
See how they mock my torture!  How they surge,
Surge through my veins, here now, then there and – here! –
Mad, mad each one of them!  They gibber at
My pain, and clutching at me, all at once
Snap the big world between us'
On its surface, and in the authors intention, A Nocturne is ostensibly a tract in support of the temperance movement but, imagined with an eldritch eye, it becomes a surreal long dark night of the soul tormented by the cyclopean and unnameable.
Catherine Shepherd's 1938 play, Daybreak, a surprisingly feminist text for the time is set a hundred years earlier in colonial Hobart. In it we see the daughter of a colonialist defy her father for the love of ideas and to facilitate the love between two convicts in their service. A gathering storm plays an important role in building the tension and horror but here the real darkness gathers around the father, Simon Martel—a strictly devout authoritarian pastoralist who rules his family, his business interests and the colony's convicts with an iron fist. The opening moments of the play have a stark and ritualistic tone, with Martel leading his family in prayer.
'I will set no wicked thing before mine eyes: I hate the work of them that turn aside; it shall not cleave to me. A forward heart shall depart from me: I will not know a wicked person. Whoso privily slandereth his neighbour, him will I cut off: him that hath an high look and a proud heart will I not suffer.
Mine eyes shall be upon the faithful in the land that they may dwell with me; he that walketh in a perfect way, he shall serve me. He that worketh deceit shall not dwell within my house: he that telleth lies shall not tarry in my sight. I will early destroy all the wicked of the land; that I may cut off all wicked doers from the city of the Lord'.
I read these lines and I wonder what Michael Kantor would have made of them, maybe with Carrillo Gantner in the role of Simon Martel.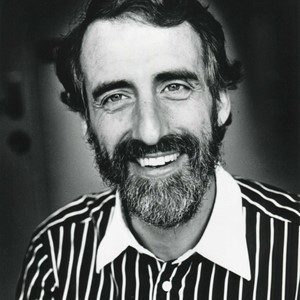 Artistic Director, Director, Executive Producer, Producer, Actor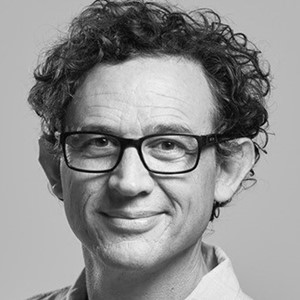 Artistic Director, Director, Set Designer, Adaptor, Creator, Devisor
Dymphna Cusack's play Red Sky At Morning is a darkly claustrophobic pot-boiler from 1935. This one is my favourite. In it once more a gathering storm, sex and death boil just below a very tense surface until they explode in a torrent of rain and violence. Here the thunderstorm, traps five people in a tavern together with a violent and threatening soldier. The storm feels like a monstrous god, dark and vengeful, approaching from the deep black night sky. As the thunder and lightning come to a crescendo at the end of act two, imagine the menace that can be read into lines like,
'You'll sleep sound my lord, though in a less comfortable bed than you covet. The drunken fool – to ruin my plans like this. But we'll outwit you yet. Sleep well, my noble master. May wine and old brandy bring you sweet dreams. Good night, my lord. Sleep well, sleep well.'
Each one of these plays is a Woyzeck waiting to be discovered. And Büchner didn't even finish Woyzeck.
Each of these plays share common ground with Monsters. Though none of them are explicitly about a literal monster, a creature of some indescribable physicality and malevolence that waits to devour our protagonist, in all of these plays something terrible and unknowable and violent waits for us in the darkness. Viewed through the right lens, all of these plays deal with existential horror.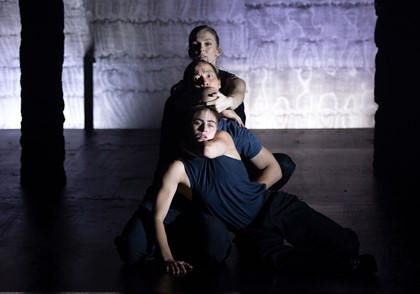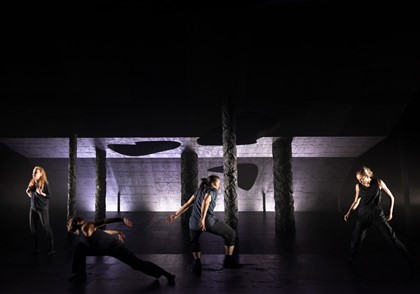 Production still for the 2022 Season of 'Monsters'. Top-Down: Samantha Hines, Kimball Wong, Josie Wiese. Photographer: Pia Johnson
Production still for the 2022 Season of 'Monsters'. L-R: Alison Whyte, Josie Weise, Kimball Wong, Samantha Hines. Photographer: Pia Johnson
A million years ago when I was a teen, while the goths and punks that were reading were discovering Clive Barker or Stephen King, I stumbled by way of role-playing games, into the work of H. P. Lovecraft.
Turn of the century fantasy and science fiction tended to still be in the mode of Welles and Verne or the emerging pulp magazine writing, but Lovecraft's work took a bleaker and more existential view. In Lovecraft's universe, humanity is a tiny, limited, and insignificant thing. Out there, in the vast darkness of space, across the unfathomable eons of time and across unknowable other dimensions, ancient and impossibly powerful beings exist that have agendas and desires as alien and incomprehensible to us as our own are to the microbes that crawl across our eyes when we sleep.
Lovecraft did use a lot of 50 cent words.
He was also a deeply problematic man, and it shows in his work. There's the inherent racism and sexism of the early 1900s which seems like it gets a hyper charge from Lovecraft's own intense phobias and anxieties about contact with humanity in general. It's pretty in your face for a modern reader, which makes reading the founding texts of the mythos pretty hard going. But the canon (there's that word again) of writers that have contributed to the Lovecraftian oeuvre since then have taken the core ideas from it and deepened them into a universe of stygian terrors that live in the dark, contrasted with the fragility of humanity and the tenuousness of our grip on 'control'.
Today the good parts of Lovecraft's work have become woven into pop culture with the winged, cephalopod-headed Great Old One, Cthulhu, becoming an archetype of 'big scary thing… no, I mean really big scary thing'.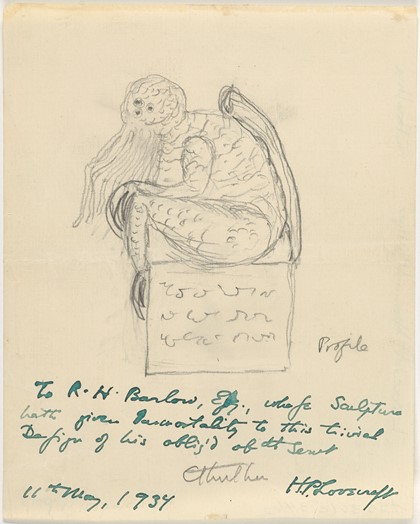 Image credit: Sketch of Cthulhu drawn by Lovecraft (1934)
Obviously, this is the central anxiety of colonialism. That a much larger, much more powerful force may come to challenge colonialism's tenuous grasp on territory it occupies but does not truly own and shake the authority it has no valid claim to. It's perhaps not coincidental that another form of science fiction rose around the same time as Lovecraft, that of the Alien invasion. The epitome of the genre, in my opinion, H. G. Wells', The War of the Worlds.
Wells' book tells the now familiar story of an invading force from Mars with technology vastly superior to ours that commences a world wide attack on Earth. Earth's forces are out classed in resources and strategy and civilisation is on the brink of destruction when it is saved in a Deus ex machina, as the Martians are universally felled by their vulnerability to the common cold. The War of the Worlds is arguable strongly influenced by an 1871 novella called The Battle of Dorking, in which German forces invade and overwhelm England. In the lead up to the first world war there was a rash of these stories printed. They reflect the same anxieties as can be found in more recent invasion fiction such as John Marsden's controversial but iconic Tomorrow when the War Began series.
In Post-Colonial Drama, Helen Gilbert and Joanne Tompkins, observe that:
'Although a relatively minor player in world events, Australia has been able to exercise cultural, economic, and military power over some of its Asian-pacific neighbours… at the same time the fact that Australia is a resource rich country with a comparatively small population has led many inhabitants to fear invasion by Asian countries. This attitude, partly a function of racism and xenophobia, has led to an extremely complex political situation in which the position of coloniser and colonised are often highly unstable'.
Gilbert and Tompkins also reflect on how space and place manifest themselves in colonial and post-colonial drama.
'Both settler and indigenous playwrights engage, albeit often in quite different ways, with the spatial aspects of imperialism. In many cases, dramatised images of the landscape reveal how space has been constructed by imperial history and, concomitantly, how it might be deconstructed and reorganised according to the imperatives of various colonised groups…. Space, as it is determined by the contours of the landscape and the vagaries of the weather, figures prominently in settler narratives where it often becomes a site of anxiety and struggle'.
Linking post-colonial drama and existential horror is the personification of the fragility of colonialism and the anxiety it causes the colonisers writ large.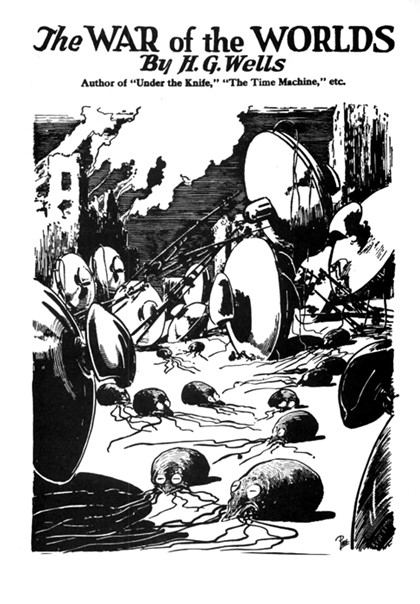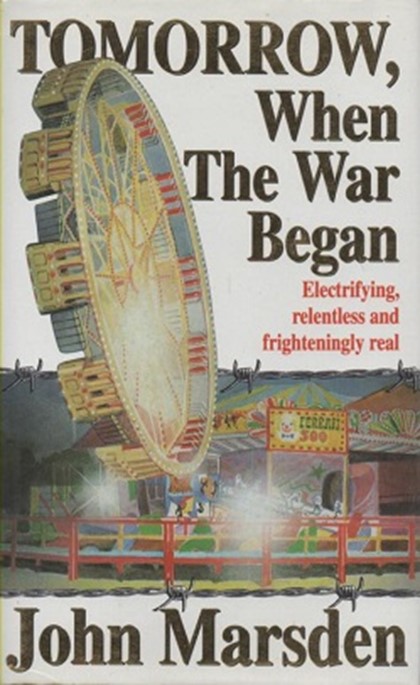 Image credit: Title page – Amazing Stories reprint, cover illustration by Frank R. Paul (1927)
Image credit: The Battle of Dorking, cover page (1914)
Image credit: Tomorrow, When the War Began by John Marsden, first edition (1993)
The generic structure of Lovecraftian horror, when it's not poetic discursions on other dimensions inhabited by God-like aliens with polyps as their servitors, follows a descent into darkness format. An event, like the death of an estranged uncle and the inheritance of his diaries, leads the protagonist to search into a hidden world of cultists, ritual sacrifice, body horror and ancient monsters from beyond (sometimes the ocean, sometimes from space, sometimes time immemorial). On discovering the antediluvian horrors that lurk just under the familiar world, the protagonist—more properly in gaming parlance, the investigator—promptly loses all their sanity points and becomes a gibbering moron bound for the insane asylum.
Again, apologies for the harmful stereotypes here, this is what I mean about his work being problematic.
Nevertheless, the roots of this existential eldritch horror, or at the very least much of its aesthetic, can be traced back to more traditional horror faire. In the Gothic, romantic and melodramatic traditions, you can see resonances with eldritch horror; the unsettling atmospheres created, the building tension, the anxiety that at any moment power and control will be taken from the hands of the protagonist by a supernatural entity with powers that trivialise our own.
At the heart of Lovecraft's existential horror (and encoded into the dramaturgical DNA of the mythos that follows it) is the threat from beyond. The danger that creeps in the night. The something big and scary… no, I mean, really big and scary, that is waiting for us, out there, concealed in the darkness.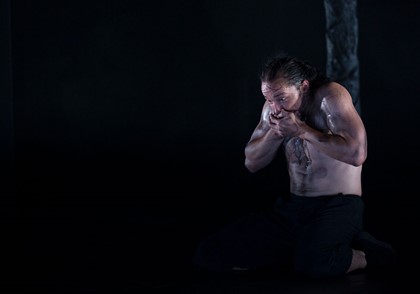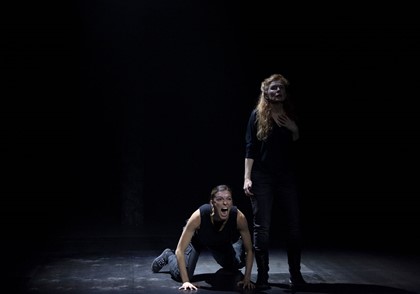 Production still for the 2022 Season of 'Monsters'. In Photo: Kimball Wong. Photographer: Pia Johnson
Production still for the 2022 Season of 'Monsters'. L-R: Samantha Hines, Alison Whyte. Photographer: Pia Johnson
Of course, in older Australian play texts, (even until unacceptably recently) the elephant in the room has been the entrenched attitudes of the time that permeate those texts. Particularly evident is the, sometimes well-meaningly awkward but too often appallingly racist, presentation of Australian First Nations People. I wonder if this doesn't underly our reluctance as a theatre culture, and as Australian culture generally, to look back. White Australia, let's not mince words, has yet to reconcile with its original sin, the brutal and ongoing colonisation of the oldest living culture on the planet. This is the true eldritch and ancient horror that lies beneath any and every Australian story. Sometimes buried deep, sometimes itching just below the surface.
Any form such as horror, the gothic or melodrama, that uses metaphor and elision to explore the passions and darkness of a place and its people, in Australia must ultimately come to the blood that has been mixed into the earth upon which we have built our cities.
That's not an easy thing to reckon with when it's your hand that shed the blood. As in eldritch horror, once gazed upon the monster is too all encompassing, too unfathomably hideous to withstand exposure and the investigators simply lose all their san points. When the—in Lovecraft's work, particularly—white eyes see revealed the darkness and chaos that lies beneath the world they imagine is all their own construction, they abandon their reason rather than account for the truth.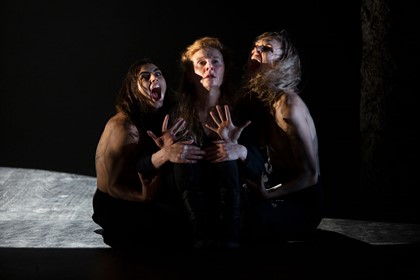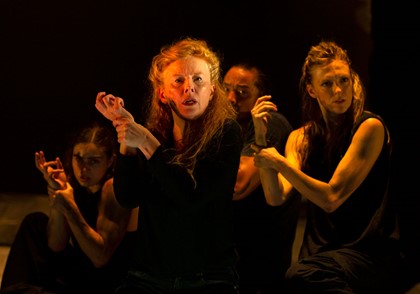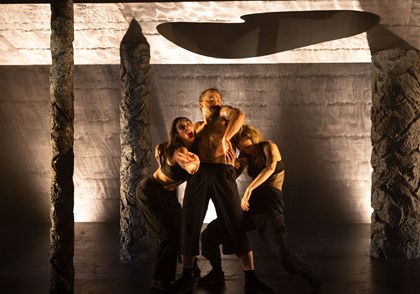 Production still for the 2022 Season of 'Monsters'. L-R: Josie Weise, Alison Whyte, Samantha Hines. Photographer: Pia Johnson
roduction still for the 2022 Season of 'Monsters'. L-R: Josie Weise, Alison Whyte, Kimball Wong, Samantha Hines. Photographer: Pia Johnson
roduction still for the 2022 Season of 'Monsters'. L-R: Josie Weise, Kimball Wong, Samantha Hines. Photographer: Pia Johnson
I've always wanted to translate the Lovecraft Mythos for the stage. Something simple, with a storyteller and a fireplace maybe, telling how their great aunt went mad searching for monsters. Maybe some puppets to suggest the weird and the impossible stuff. No, maybe dancers…
But...
Every time I think about doing it, I remember that there is already an ancient culture here. There is already a terrible darkness hundreds of years old that lurks just beneath the surface of our plays, our stories, our society. There are already ancient gods and spirits and traditions and stories here and I worry that invoking the big scary gods of a chronically phobic racist in the place is, at the very least, disrespectful… and probably asking for trouble.
Gilbert and Tompkins make the point that,
'In settler societies, a recent generalised movement towards the recuperation of indigenous cultures has often led to new forms of imperialist appropriation, if ones that lean towards political correctness…. Not always in an attempt to understand… to make amends for past injustices, or to forge a new hybrid nation, but more often to claim an authenticity…'
That which threatens our illusion of control; that overwhelming force which hides in the dark; it is already here. The eldritch horror we dare not face lest we go mad is already and has always been here. It is our dispossession of the oldest living culture on the planet. It is their deaths in custody that continue even now. It is woven into our systems and our beliefs. It diminishes us and we are tiny, fragile and culpable figures before it.
How can anyone make theatre about ancient undying horror buried in the earth in Australia and have it not be about colonisation? How can we play at fictional Great Old Ones when some of the most ancient gods and spirits are already here? Can you write a play, any play, in Australia and have it be about anything other than colonisation? Until the country itself, not just its artists, has begun to reckon with and atone for its past, maybe not.
So, I've never made a Cthulhu play.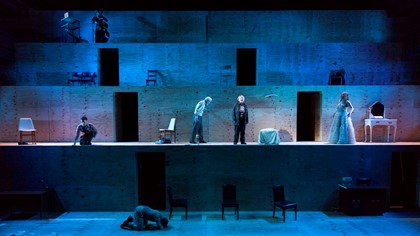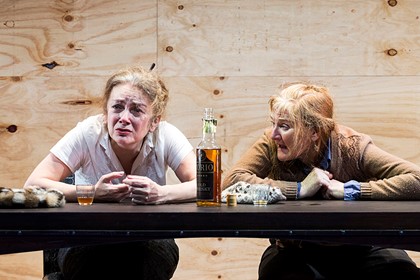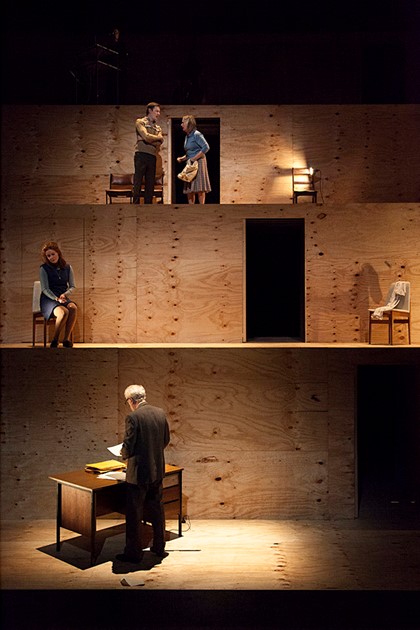 Production still for "Night on Bald Mountain". Top: Ida Duelund Hansen; centre: Luke Mullins, Peter Carroll, Julie Forsyth, Melita Jurisic; lower: Syd Brisbane. Photographer: Pia Johnson
Production still for "Night on Bald Mountain". L-R: Melita Jurisic, Julie Forsyth. Photographer: Pia Johnson
Production still for "Night on Bald Mountain". Top: Luke Mullins, Sue Jones; centre: Nikki Shiels; lower: Peter Carroll. Photographer: Pia Johnson
In Patrick White's Night on Bald Mountain, (SPOILERS) Stella throws herself of the cliffs edge, walking out into the moonlight at the end of act two. High above the city in the rocky and desolate landscape in a tiny house, confining and cramped atop the mountain, she's horrified by the revelations of her desire or her childhood abuse, depending on how your read it. Like the Great Old Ones the mountain broods, accursed and uncaring thing that sits and waits throughout and beyond. Indescribably ancient and wearied by generation after passing generation of trauma and death and silence. The tiny things that scratch around on its surface are less than insects to the mountain. Their lives, their loves and their tragedies flicker by in brief, meaningless instants. They are nothing to the mountain and the vast emptiness that it inhabits. Here on its blasted sides the lonely, insignificant humans confront the meanness of their petty days, the truths of their casual cruelty and can only go mad.
In the morning on Bald Mountain, Ms. Quodling says,
'Then there is something that knows more… something that gets us all in the end… through the heart. But when there is nothing left… not even Bald Mountain… after they've ground it into dust… and all livin things with it… like they tell yer… if you can believe…. But you can't! Can yer! There is no such thing as nuthin. The silence will breed again… in peace… a world of goats… perhaps even men!'
Of course there's a cannon of Australian theatre.
Perhaps it's only our own resistance to seeing it that makes it invisible. Perhaps its obscured by horrors in our past so colossal that we can't stand to look back. There are no 'Australian Classics' because no bastard will go look for them because we're not ready to deal with what we know we'll find there.
Waiting for us.
In the dark.
Dr . Robert Reid is an independent playwright, theatre historian, immersive performance designer and critic. They were the artistic director of independent theatre company Theatre in Decay and immersive performance and game company, Pop Up Playground.  Dr . Rob's plays have been performed by the MTC and Black Swan, and their immersive works have been presented by the MSO, SLV, City of Melbourne, Bell Shakespeare and the Melbourne Football Club. Dr. Rob has a PhD in Australian Theatre History, was a co-founder and co-editor of WitnessPerformance.com and now runs the YouTube channel, Television is Furniture presenting reviews, history and analysis of contemporary Australian theatre.  
ᶦ Atkinson, E. J. Rupert. A Nocturne. Edward A Vidler (The Specialty Press), Melbourne. N.D.
ᶦᶦ Cusack, Dymphna. Red Sky at Morning. Melbourne University Press, 1949.
ᶦᶦᶦ Gilbert, Helen and Tompkins, Joanne. Post-Colonial Drama: Theory, Practice, Politics. Routledge, London. 1996.
ᶦᵛ McCallum, John. Belonging: Australian Playwrighting in the 20th Century. Currency Press, Strawberry Hills, Sydney, 2009.
ᵛ Nocera, Anthony. "Who's afraid of Australian theatre? Why our plays aren't treated like classics?", The Guardian. Wed, 16 Nov 2022. [URL: https://www.theguardian.com/stage/2022/nov/16/whos-afraid-of-australian-theatre-why-our-plays-arent-treated-like-classics].