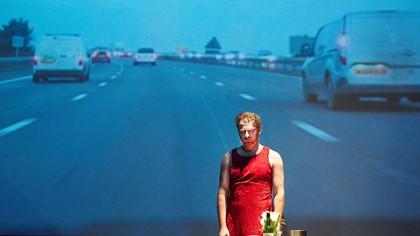 You're Not Alone (2017), Kim Noble. Photographer: Geraint Lewis
Kim Noble is an award-winning artist who works across comedy, film, art and theatre. He has also starred in TV Shows like The Mighty Boosh, Noel Fielding's Luxury Comedy and Garth Marenghi's Darkplace. He worked undercover at B&Q but now has a legitimate cleaning job. He might write a book.
Who inspires you at the moment?
This guy came up to me on the tube and said a really nice thing to me. He was called Ben.
Have you been to an interesting event lately, or seen something that has made you think differently?
I was due to go to a Mindfulness day workshop last Friday on dealing with Depression & Anxiety, but it got cancelled at the last minute due to lack of interest. In a way I suppose that's a good thing, but I still haven't got my refund.
What are you reading or listening to at the moment?
I was pretending to read Goethe's, The Sorrow of Young Werther, on the bus and in cafés to impress the ladies. But the title is quite small on the front cover so I'm not sure people really noticed.