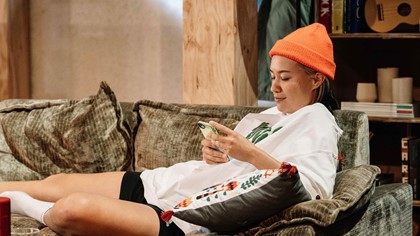 Photographer: Phoebe Powell
Actor Brooke Lee is about to make their mainstage debut as 'Mae' in our upcoming production of Stay Woke. We sat down with them to ask five questions about their artistry, their passion for new writing, and what drew them to this role.
Tell us about the play and what excites you about playing 'Mae'
Two estranged brother and their partners, go for a pleasant ski weekend away and end up unpacking more than they'd expected. It explores our new world of wokeness from different generations, racial realities, and upbringings. It's 2022 and family dramedy never looked so juicy!
Mae is a peacekeeper, anarchist, lover, queer, enby, vibe maker, and needs this holiday. If they're not leading an anti-racism seminar for the corporate world, you'll find them partying hard and working through the hangover by the pottery wheel. 
What excites me about portraying Mae is playing a non-binary character for the first time. It brings me so much queer joy and relief to play inside my experience. I'm so keen for audiences to see Mae written by Aran as a completely multidimensional person, not shrouded by the typical queer shame narrative. 
You've been developing this play with us over the past two years, and it's about to premiere on Malthouse's stage. What do you enjoy about making work?
New work has always been the most engaging part of my short career. Developments fuel my sense of creativity and connection to the writing. There is such a fantastic pool of writers and stories right here, yet we so often look to the theatre giants in the US and UK. And they too make great work! But what we have here are theatrical worlds that belong to us. Reading a draft of Stay Woke for the first time almost two years ago felt like a warm hug. I know these characters. And to have seen, admired, and contributed in some way to Aran's work feels like a huge privilege.
The play brings up some interesting conversations around how queerness intersects with migrant identity. What are the friction points in the play that you want people to talk about?
Queerness and migrant identity is so multifaceted. We have our parents, new immigrants who have been through the wringer to get us where we are. Who not only have had to adapt to a new culture but mourn the loss of their own, watching their kids grow up in a world they don't fully understand. 
And for us first gen Aussies it can be a minefield. Sometimes you try to keep two identities alive: One for your parents and one for the outside world. And you can either stay safe and protect your parents or run the gauntlet of telling them who you are. That's the friction that tugs at me in this play. I completely relate.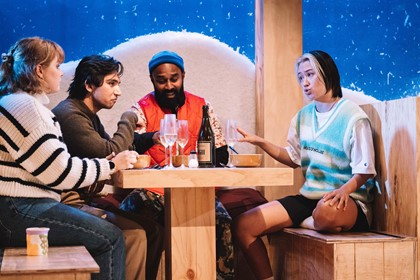 Photographer: Phoebe Powell
What's the difference between being woke and staying woke, for you?
Wokeness has become a catchphrase and I don't mind it! But of course, it can be just performative. Black squares. Well-meaning words. Being Woke isn't active, you can be aware of oppression and point at it—but until you commit to ongoing action, engaging in difficult conversations, being open to change, and calling out oppression... It's inactive. The world keeps spinning, and you're never going to be able to know it all. Staying woke is the commitment to learning and working.
You're an actor, director, AND a designer. What does it mean to have all these strings to your bow? How has it influenced your approach to this production?
Now you've just reminded me about the other roles I take…I'm realising how nosey I am in rehearsal. Lucky it's a very collaborative space and no one has told me to butt out yet! I love watching Bridget direct and I'm always peeking over Tilly's shoulder to ooo and ahh about what new costume she's picked or wanting to jump on the new set piece. From the lighting, sound, set builders, graphics, and marketing. The whole team blows my brain and gives me the creative itch! The way everyone's vision of this story and these characters has come together—chef's kiss! Jess has called me an ally to stage management so that's a sign I'm not getting in the way with my loud thoughts.
I'm not being hyperbolic when I say I've fallen in love with Stay Woke. A piece that is funny, political, and poignant without force-feeding you like you're a pate goose. Aran's writing immediately grabbed me. Plus I get to be onstage with a majority POC cast, playing a Chinese Australian non-binary character. I get to dance, eat, and smoke on mainstage in a pair of multicolour new balances. It's unheard of.
Brooke Lee is a proud queer Chinese Australian actor. A graduate of the Acting BFA from Victorian College of the Arts (VCA), Brooke has performed in Hello, World! (Malthouse Theatre), Let Me Know When You Get Home (National Theatre of Parramatta), Slaughterhouse (Belvoir 25A), Puffs or: Seven Increasingly Eventful Years At A Certain School Of Magic And Magic (Life Like Touring), The Echo of The Shadow (Melbourne Festival/Teatro de los Sentidos), The Skin of Our Teeth, Peter Pan, Henry V (VCA), and Mamasquito (Melbourne Science Gallery/Gesundheit). Alongside acting, Brooke is a budding director and designer. Most recently Brooke was assistant director of Yellow Face by David Henry Hwang (Kings Cross Theatre), and their animation work in 落叶归根 (Luò yè guīgēn) Getting Home was nominated for the 2021 Green Room Award in Design.