Production still for "Torrez". L-R: Peter Docker as Torrez, Marco Chiappi as Fox. Photographer: Unknown
Torrez
By Ian Wilding
27 May 2004 – 19 June 2004 CUB Malthouse
Playbox Theatre Company, Griffin Theatre Company, Black Swan Theatre Company,
New Writing Theatre Co-Production
Ian Wilding's Torrez is a ruthless, observational drama about the game of Australian football and, in particular, Troy Torrez, a recently retired champ.
Torrez knows how to kick a football. But at thirty-something he's on the wrong side of his playing career. His frazzled manager Foxy believes a media career beckons, but there may be one too many skeletons in the Torrez closet to get this sporting legend on primetime in the way they'd like. And then there's the terrible possibility that one of the skeletons has fallen out of the closet and is waiting at the front door for an autograph.

A raucously funny exposé of the world of celebrity and sport, and the longings at the heart of Australian masculinity. Features two of the worst-behaved men seen on the Australian stage for a long time.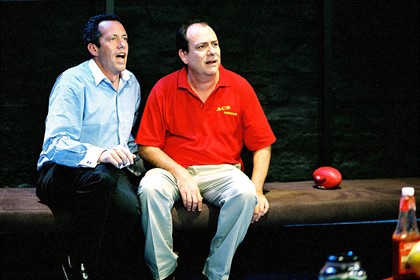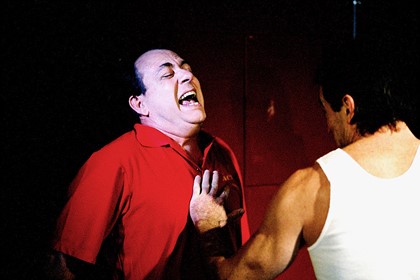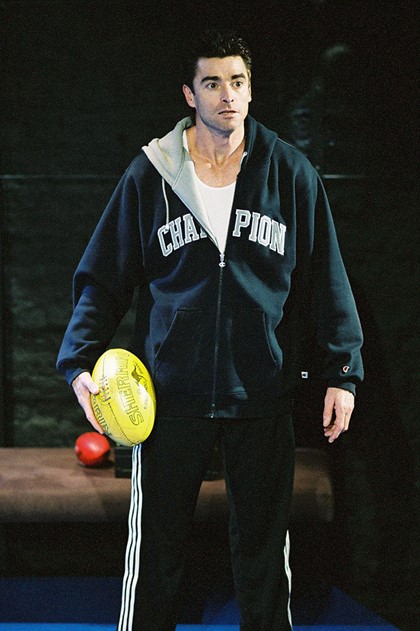 Production still for "Torrez". L-R: PMarco Chiappi as Fox, Andrew James as Adams. Photographer: Unknown
Production still for "Torrez". L-R: Andrew James as Adams, Peter Docker as Torrez. Photographer: Unknown
Production still for "Torrez". Peter Docker as Torrez. Photographer: Unknown